Ten things to watch in Gil Junger's loose adaptation of William Shakespeare's The Taming of the Shrew, 10 Things I Hate About You:
1. It presents teenagers as human beings. Rather than following the trend of grossout humor that was popular a decade ago, 10 Things I Hate About You looks at how teenagers feel and function rather than their hormones and bodily fluids. It's bawdy at times but there's a heart behind it.
2. Shakespeare made cool. Combined with Baz Luhrmann's Romeo + Juliet, 10 Things I Hate About You makes the bard fun and accessible by giving the story a modern spin.
3. Principals writing bad romance novels. There have been plenty of mean, uncaring, calling-it-in principals in movies, but none quite like Ms. Perky (Allison Janney) and her obsession with coming up with dirty adjectives and metaphors.
4. The cast. Although I chuckled at Third Rock From the Sun, I can't say I took it or any of its stars other than Jon Lithgow seriously at the time. Who would have know that Joseph Gordon-Levitt would go on to be one of the people's whose films I pay attention to simply because of his name being attached (okay, G.I. Joe is a notable exception but I think his over-the-top eyebrow wagging there would show he agrees too). This was one of his first film roles of note and he shines. So too does Julia Stiles, the late Heath Ledger and Larisa Oleynik in the other lead roles. There's also plenty of fun to be found in the supporting cast as well.
5. Motorcycles going off of cliffs. There's nothing wrong with a little over-the-top slapstick and that's just what this moment is.
6. The dialogue. Going along with the idea of the characters being believable, the dialogue is sharp without trying to be overly hip. Writers Karen McCullah Lutz and Kirsten Smith also find appropriate ways to get a little of the original source material in.
7. Sneaking out of detention. This scene takes a high school movie cliche and makes it funny, clever and shocking all at the same time.
8. Heath Ledger evading school security. Although I didn't totally dig Ledger's character Patrick, his serenading of Kat reminded me a lot of Ferris Bueller's run in the parade singing Twist and Shout.
9. Paint balloon fights. I like this scene more because it's the kind of thing I'd love to do than it being a "great scene." Finding connections in a film is how you enjoy them.
10. General team effort. I don't know if I would call 10 Things I Hate About You profound or life changing. Instead it's highly entertaining and insiteful. It takes an old story and proves the themes are timeless by applying them to a modern setting. From the writing to the cast to the direction and all the other parts in between, this is a rare film that is solid in every way.
10 Things I Hate About You Blu-ray Review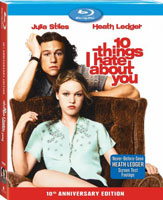 The 10th Anniversary Edition Blu-ray release for 10 Things I Hate About You presents the film in a gorgeous 1080p high definition picture (1.85:1 aspect ratio). Audio is in English 5.1 DTS-HD Master Audio with dubbed 5.1 Dolby Digital tracks in French and Spanish. Subtitles are in all three languages as well.
Writers Karen McCullah Lutz and Kirsten Smith are joined on a new audio track with stars Larisa Oleynik, Andrew Keegan, David Krumholtz and Susan May Pratt. The other major special feature on the Blu-ray is a retrospective featurette that looks at the film through the lens its tenth birthday. It is a strange combination of new interview bites, old interviews from the set and video clips.
 10 Things I Hate About You Gallery
Trailer