Every culture has its myths and legends. That's what makes them cultures. With 10,000 BC, special effects wizard Roalnd Emmerich (Independence Day, The Day After Tomorrow) presents the story of the world's first human hero as though Hollywood were a culture of its own. And with lines of dialogue like, "Do not eat me if I set you free," you can probably imagine the result.
The time is 12,000 years ago, plus or minus a year or three. Humans and the grandchildren of dinosaurs share the earth. With his lady friend kidnapped, D'Leh (Steven Strait) ventures out across the desert to find her. Along the way D'Leh makes like Braveheart and amasses an army of other tribes who are sick of seeing their people taken and put into slavery for a technologically advanced group of people.
The story is pretty basic – and boring. It's roots in myth making are so simplistic and dumbed down that there's nothing in the way of the story or the characters to get excited about. They're just props playing secondary to the spectacle. Characters can be defined simply by their archetypes: the warrior hero, the savage villain, the loyal friend, the brave child. There's no depth to their stories or the overall story the film tells. Instead it's the occasional action scene mixed with sweeping wide shots. Everything else seems like filler.
It's this very spectacle that's really the only thing worth seeing in 10,000 BC. The woolly mammoths, sabre toothed tiger and other prehistoric delights look unlike anything since Fred and Barney did the dishes for the last time in The Flintstones. Although we have no recorded history of exactly how they looked like or moved, Emmerich and his effects team bring the animals to life as though I imagined them growing up and seeing them in dusty encyclopedias and in text books. Yet no matter how cool they look, they're not a major part of the film's story. As a result I don't see how they should have been the big part of the production.
I hope I'm wrong, but I can't help but think that 10,000 BC started out as an idea that sounded like, "Wouldn't it be cool if we had wooly mammoths and saber toothed tigers and people all in the same movie?" and went from there. 10,000 BC might make ancient history look spectacular but something tells me that it would have been forgotten if it were this boring.
10,000 BC DVD Review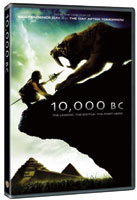 10,000 BC comes to DVD with both widescreen and full screen formats included on the double-sided disc. The picture is sharp with vibrant colours. Audio is in English, French and Spanish Dolby 5.1 Surround.
Bonus features are limited to an alternate ending, nine deleted scenes totaling 11 minutes, and previews for The Dark Knight, Batman: Gotham Knight, the LEGO Batman video game and TV's Primeval.
10,000 BC Gallery
Trailer