Several anti-war films have come along in the past couple of years calling out the war in Iraq. They've covered various conspiracies, big personalities and the front lines. But, perhaps, none have been as human as Neil Abramson's American Son. Intense and sombre, the film looks at the conflicting spheres of Marine pride and the fear of being sent to war.
Nick Cannon stars as Mike, a Marine who returns home for Thanksgiving four days before he's scheduled to go to the Middle East. Rather than trumpet his deployment, Mike holds it inside so as not to worry anyone. But as the weekend wears on and any nostalgic attempts of recreating the way things used to be are largely impossible.  Mike's family continue to struggle to get by and communicate. His friends are stuck in high school mode, partying at every chance rather than pursuing a career or, I don't know, growing up. It's crippling to Mike to see so clearly how things would have been for him had he not signed up for the military. It's a hopeless situation, really. He's either risking his life in a war he's questioning or he's back home, wasting away as one of the boys.
Mike's trip home is grounded in the relationship he develops with Cristina (Melonie Diaz), a girl he connects with right away when they meet on the bus ride home. Although she knows he's a Marine, Cristina doesn't know the complications. They have an understanding that she's heading off to college and he's being deployed, not necessarily going to fight on the other side of the world. The film covers how their relationship develops and it's based on the understanding that they're perfect for each other, but at the same time they're both headed in different directions so the possibility of something long-term is just that, a possibility and not a definite.
American Son is an intense film. It's shot in such a way that there are lots of close-ups. The camera is shaky and it often lingers a couple seconds after the action finishes. This brings an introspective feel to the film where nobody is really sure if they're happy with where they're at.  It also brings a black cloud to much of the film. American Son has a sad tone but one that feels very real. Mike treats his deployment as though it's a prison sentence. On multiple occasions he talks about how long he's going to be stationed. He also shows an urgency to experience regular things at home because they won't be coming with him except in photographs and memories.
American Son is one of the more human military-themed films I've seen in a while. It's a timely exploration of a tough internal struggle. I wouldn't say that it's an anti-war film per se, but rather one that is critical. But Abramson also provides some balance with his picture of the fractured and dead-end life Mike might have had if he didn't sign up to be a man in uniform.
American Son DVD Review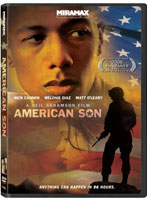 The American Son DVD is a solid but not spectacular release. The film looks solid in its widescreen format (1.85:1 aspect ratio) and sounds good with its Dolby Digital 5.1 Surround audio track, which is offered in both English and Spanish.
Bonus features include an 11-minute behind-the-scenes featurette that is more like raw footage of the shooting. Two deleted scenes are available with or without commentary from director Neil Abramson and producers Danielle Renfrew and Michael Roiff. The three return for a full feature commentary track that, once you get past the somewhat dry tone, actually has quite a bit of information.
American Son Gallery
Trailer