Say what you will about Michael Bay and his testosterone-driven style, the guy knows how to blow stuff up. He's proven over and over again that if you make things go boom with lots of noise and fast cuts that the audience can be paralyzed for 150 minutes. Literally. Sensory overload takes place and viewers become glued to their seats. Drooling is a possibility but I couldn't tell watching Armageddon because by the time it was over and I came to again, said drool could have dried up. Watching Bay's end-of-the-world cowboy space action, it's easy to be sucked in by all the glossy, nostalgic images that flash across the screen like some sort of psychological experiment, but like most of the director's other films, most is forgettable shortly thereafter. Except the animal crackers, which I've never looked at the snack the same again.
With the world in danger of joining the dodo and the dinosaurs in the land of extinction, America takes to saving the world. A massive asteroid is headed right for our dear planet and the US government only has a few days to stop it. The answer: Bruce Willis, Ben Affleck and a band of cartoonish misfits. All come from an off-shore oil drilling unit. The plan: fly into space, land on the asteroid, make it into a doughnut and drop a nuke in it. Pretty basic stuff, really.
Armageddon is a perfect excuse to blow stuff up and travel at super fast speeds, which also makes it the perfect candidate for Bay's frenetic and dizzying editing style. I've got a soft spot for Bay when he's offering up a 15-minute action sequence. Although he freely borrows from other filmmakers with many of his shots (was the slow motion shuttle march from The Right Stuff really necessary?), he puts them together in a way that's exhilarating. Several such scenes are included in Armageddon, the best of which are when some of the world's cities are leveled by a couple of mini harbingers of doom.
It's when the characters open their mouths that the film falls flat. The dialogue is loaded and over the top. The purpose comes across largely as a means to connect action sequences and get back to the explosions. The aforementioned animal crackers scene is genuinely gag-worthy. It would've been easier to just let Affleck and Liv Tyler exchange goo-goo eyes and kiss, but no, they have to go and try and make some loaded speech out of a kid's snack. It's more creepy than sexy.
Another thing that irks me about Bay is his over-reliance on wanting to be the Norman Rockwell of action movies. He loves to drop in set-up shots that reek of contrived Americana. Whether it's a farming family looking to the skies, an elderly man dropping his jaw or a gang of kids running through the streets with toy space shuttles in an age where toys that actually look like real space shuttles are rare, Armageddon has its share of these Bay moments. While a lot of them are gorgeous in their own right, they're so plentiful and over-the-top that they feel like pandering. They really do seem better suited for a commercial or hanging on a wall.
When I see Michael Bay's name attached to a movie I have certain expectations. Action is one of them. Thinking is not. That's exactly what Armageddon offers. By no means is it an enlightening experience, but it sure knows how to go boom.
Armageddon Blu-ray Review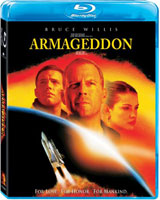 The presentation aspect of the Armageddon Blu-ray is indeed impressive. The rest of the package – not so much. The picture looks spectacular in its 1080p high definition widescreen (2.35:1 aspect ratio). Audio is in English 5.1 DTS-HD Master Audio with addition Spanish and French tracks in 5.1 Dolby Digital. Subtitles are in English, Spanish and French. As far as bonus features go, you've got the music video for Aerosmith's "I Don't Want to Miss a Thing" and a couple of trailers.
Armageddon Gallery
Trailer