Generally when you hear people vent of Hollywood's lack of original ideas, they're referring to action movies, summer sequels and remakes of films made a decade earlier. But if my DVD shelf is any indication, perhaps the most unoriginal idea in film today is the Jane Austen adaptation. Don't let the pretty costumes distract you. Let's take Pride and Prejudice, for example. You've got your Keira Knightley vehicle from 2006, a Bollywood-inspired take two years earlier, a modern Mormon spin the year before that, a BBC mini-series in 1980 and 1994's six-hour A&E epic that seems to make my wife's viewing cycle monthly. And that's not even getting into the several versions made in the 1920s.
The Jane Austen adaptation has become a money-making machine in recent years. They're so plentiful in number, it's almost like a genre unto itself, separate from other costume dramas and romances. Most Austen films follow a pattern of a girl having to choose between love and money, navigating the archaic class structure of the time and picking a life partner based on love. And so is the backdrop for the apparent biopic Becoming Jane, in which Ms. Austen jumps down a rabbit hole and finds herself trapped in one of her types of stories.
I don't know much about the history or genealogy of Jane Austen. Neither am I an expert in her books or the movies that are based on them. However, I have a hunch that although the script was inspired by Austen's letters, it is a film largely based in the realm of fiction. It's not surprising considering the level of success her works are still finding with modern audiences. Jane Austen has become a thing of legend. And what better way to push a legend than with a film.
As a film, Becoming Jane meets all the criteria of a good Jane Austen adaptation: the costumes are vibrant and detailed, everyone talks with an accent, the locations are pristine and overall it's a solid romance. Yet in meeting the criteria of a "genre" it doesn't stray far from it, thus making the film wholly predictable in all of its comforts.
I believe a big reason why Austen continues to resonate with current audiences is the fact that her take on love is one based on a combination of the realistic and the princess syndrome in which a Prince Charming will come riding in and sweep the lass off her feet, taking her away to a land of happily ever afters, yada, yada, finish. Only in the Jane Austen story, Prince Charming is often a little rough around the edges when standing next to society's ideal suitor. This is exactly how Becoming Jane plays out. Even with my limited experience with Austen-based material, I still found it hitting all the plot points at all the right time. So even though it looked great and was moderately engaging, something was also always missing.
The title Becoming Jane suggests putting Ms. Austen on a pedestal, one in which she would have been just an average, inconsequential woman had she not picked up the pen. By becoming the Jane Austen that is beloved and borrowed from thousands of times over, she metamorphosed into a literary god of sorts. But what if she didn't pick up her pen? Would she still not have been Jane? Sure, by becoming an author, she did contribute more to the world than she might have if she were to have gone with the flow and simply let life play out as society often dictated in her day. But that shouldn't have made her any less a human and have to become someone or something different.
Becoming Jane DVD Review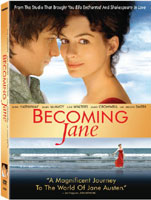 Like you'd want with any lush costume drama, the picture is bright and colourful. It's presented in a widescreen format with a 2.35:1 aspect ratio. Audio is in Dolby Digital 5.1 Surround with an additional track in Spanish. Optional subtitles are offered in English, French and Spanish.
Of the bonus features, my favourite was a subtitle pop-up that offers a combination of film facts and notes as well as little trivial tidbits about Austen, her work and the connections to the film. Other extras include 13 deleted scenes, an audio commentary with director Julian Jarrod and a self explanatory 17-minute featurette titled "Discovering the Real Jane Austen." There's also previews for a handful of Disney films and shows.
Becoming Jane Gallery
Trailer
[tab:END]