If Bedtime Stories proves nothing else, it's that an Adam Sandler movie doesn't have to be crude to be funny. Although not on par with my Sandler comedy favorites Happy Gilmore and The Wedding Singer, Bedtime Stories is still enjoyable, silly and a wee bit whimsical. It's also treacherously predictable at times, the two leads lack chemistry and it has the token horrible Rob Schneider cameo that seems to come with every Sandler comedy.
Skeeter Bronson (Sandler) grew up in the hotel business. His father opened a little roadside stopover spot when he was a boy and continued in the business after his father sold out under pressure from mounting bills. Despite the fact that Skeeter was little more than a handyman in the monster hotel that replaced his father's quaint little piece of the American Dream, he somehow seems to hold onto a slice of magic. He's a PR guy with a plunger stuck in the back of the room.
When his sister Wendy (Courtney Cox) heads out of town for a few days, Skeeter is left to look after his niece and nephew, whom he's never had much of a relationship with. Without a TV to spare him, Skeeter starts telling them elaborate stories that magically start coming to life the following day.
Bedtime Stories has the feel of the old-time Disney movies I grew up with on The Wonderful World of Disney. There's a whole lot of wholesome and some imaginative situations, albeit ones that never fall far from the familiar. The foreshadowing is blunt and obvious, although for the target audience of children, they might not pick up on it as much. If they're like my daughter, they'll probably get caught up with the guinea pig's computer generated googly eyes.
Although Bedtime Stories is very much a Disney film, it's also very much like a lot of Sandler's other comedies. Toward the end, the plot comes very close in context to Billy Madison. There's also plenty of potty gags, although you get more PG exclamations like "fart" and "poop" rather than four-letter expletives. Another Sandler staple – and I'm not sure why it has to be this way – is the Rob Schneider scene. On a good day he's slightly amusing but here his old-school "Indian" is a buzz kill akin to anyone outside of Robert Downey Jr. in black face.
Also awkward in the casting, but for totally different reasons, is Keri Russell who emerges as the love interest. While she's normally very charming and down-to-earth in films such as Waitress, she comes off as very uptight when paired with Sandler's Skeeter. And this is even after the fact that their initially tense relationship in the film starts to wear down.
The main standout, just as he was in Forgetting Sarah Marshall, is Brit slacker-dude Russell Brand. Almost every scene that he's in he steals the thunder, except maybe when he's up against the googly-eyed guinea pig. Part of that is the writing, but Brand's dumbed-down smarts is an appealing persona that I have a hunch is going to be around for sometime as he continues to gain popularity and momentum in North America.
Like bedtime stories in general, the film is a mixed bag of familiar scenarios with a slightly different context. It's an innocent film that has its fun, although it's not too terribly deep. By the credits I was ready for it to end, yet Bedtime Stories is still a film that stuck with me when I woke up the next morning.
Bedtime Stories Blu-ray Review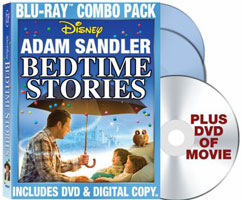 Bedtime Stories is the latest Blu-ray from Disney to come jammed with different versions of the film depending on your format choice. Besides the excellent Blu-ray disc itself, the package comes with both a DVD and a Digital Copy.
The Blu-ray disc has the film in a gorgeous 1080p High Definition picture (2.35:1 aspect ratio) where every piece of magic is crystal clear from my accounts. Audio is in English 5.1 DTS-HD and French and Spanish 5.1 Dolby Digital. There's also English, French and Spanish subtitles.
The bonus features are somewhat on the light side. There's collections of bloopers and deleted scenes and two featurettes: one on Bugsy the scene-stealing guinea pig and one on the special effects.
Bedtime Stories Gallery
Trailer