How long does it take for a film to be given the label "classic?" I'd vouch in most instances that it's like love at first sight – you know it but you don't want to bring up the subject in case the initial bliss fades with the passing of time. When Tim Burton's Beetlejuice came out I wasn't looking for love but I found a lifelong affair anyhow. With its sophisticated yet accessible blend of comedy and the macabre, I knew Beetlejuice was likely to be one of those films I would never tire of. But a classic? It's been 20 years. I'm willing to throw that blue ribbon on it.
Following their unexpected death, dorky but loveable couple Adam (Alec Baldwin) and Barbara (Geena Davis) are left with a dilemma when their quaint New England home is bought by an eccentric family of weirdos. The farthest thing from scary, the ghostly duo decide that good, old-fashioned fear tactics are the way to get their house back. When their plans don't work, they elicit help from one Beetlejuice (Michael Keaton), a monster-for-hire who comes with the lowest of recommendations from all corners of the underworld. But desperate times (not to mention the film's plot), call for dramatics and Adam and Barbara make the right choice in making the worst possible choice.
Prior to Beetlejuice, a lot of what I knew about Keaton stemmed from my parents putting Mr. Mom in the cycle of three movies they would get for me and my sister whenever we'd venture out and rent one of the clunky top-loading VCRs. I saw him as a funny guy, but changing diapers and cooking can only get you so much kudos. Needless to say, Keaton was a hero with his take on the gross and grotesque Beetlejuice. Now here was a character a 10-year-old could watch without guilt towards his parents (there's few cuss words) and there was no shame in admitting what a cool character he was around school (Beetlejuice took no crap from anyone – even the dead). Keaton plays the part with tremendous gusto and never holds back. He takes the role of the obnoxious uncle who never leaves to a whole new level.
Shrunken heads, severed heads, stretched heads – all are worthy of street cred in the upper-elementary classroom individually. Package all three together in one 90-minute film and you've got something legendary. Beetlejuice was the breakthrough that brought Tim Burton and his signature style of telling giving modern fairy tales a dark and moody spin into the spotlight. Pee Wee's Big Adventure was a pretty high-profile debut but I'd argue the star was where all the attention was. Here Burton may have a superior cast, but it's ultimately his vision that makes Beetlejuice such a fun movie with lasting energy. I can no longer count the number of times I've seen it over the years. It's too much fun to turn off whenever I stumble across it on TV. And when there's a drought, I've had a video or DVD to get my fix. The creativity and imagination have never gotten boring and something tells me that in another two decades I'll still be in love.
Beetlejuice DVD Review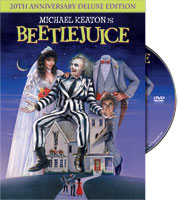 Perhaps the best thing to say about the "20th Anniversary Deluxe Edition" DVD release of Beetlejuice is that it no longer has the annoying cardboard flip jacket. The film is shown in its original widescreen format with audio in Dolby 5.1 Surround English, French mono and Dolby Stereo Surround Spanish.
As far as extra features go, there's not much. A stand-alone music track that has all of the dialogue removed is interesting to see how music plays a role in the film's mood, but there's many parts where silence takes over. The meat of the bonus features comes from three segments from the animated cartoon spin-off from the film. I didn't like it when I was a kid and it holds up even worse now.
The tag "Deluxe" is highly misleading here. If you're a fan of the film and don't have it already, then it's worth a gander just to have the movie on your shelf. If you bought the bare-bones release already some years ago, this one's not that much different, unless you're one of the handful of fans of the old cartoon.
Beetlejuice Gallery
Trailer