In a complex world, it's sometimes difficult to discern when to take something for exactly what it is or to take it at a deeper level. Going poetic and seeking out the metaphors of life can be rewarding. They require thinking, analysis and can lead to a different way of looking at the world. But sometimes an apple really is just an apple, a sunset is a sunset or, in the case of Hal Ashby's Being There, a tree is just a tree.
Chance (Peter Sellers) is a simple man. He has literally spent his entire life working as a gardener and getting no view of the outside world save for what he sees on television. And he watches a lot of TV. When his boss (or caregiver, depending on how you look at it) passes away, Chance is kicked out of his home and forced to venture out into the real world. Within hours he's almost killed by a gang and then hit by a limousine carrying the wealthy Eve Rand (Shirley MacLaine), wife of Benjamin Rand (Melvyn Douglas), a powerful man in the financial world.
Feeling guilty for the accident, Eve takes Chance home to give him a place to recover. In the days that follow, Chance is mistaken as an extremely smart man with great insight into the world's financial struggles. This leads to social ascension as Chance's world crosses into one that reaches as high as the President (Jack Warden). Chance's simplicity and knowledge of gardening is mistaken as extreme profundity.
Chance's "wisdom" offers simple advice for the complex financial challenges the country faces, even if he doesn't know it. As Chance's influence increases over the course of the film, the charade becomes bigger. Only thing is, Chance is just being himself. He truly isn't smart enough to lead people on.
Being There is a delightful film filled with nuance and an excellent performance by Sellers. Not only is Being There one of Sellers' final films (it was released in the final days 1979 and he died of a heart attack just seven months later), it ranks up there with his best alongside The Pink Panther and The Party. The humor here is much more subtle than the sight gags found in his farces, which Sellers is best known for. In Being There, Sellers uses simple looks and gestures to bring light to some very serious situations. At many points it's like he's in a trance, truly embodying Chance. It's a very complex take on such a simple man. Sellers was nominated for an Oscar for his performance but lost out to Dustin Hoffman for Kramer vs. Kramer.
Ashby, perhaps best known for his quirky classic Harold and Maude, creates another film that blends serious drama, commentary and humor. Like Chance's wisdom, I'd argue both films could be taken and enjoyed at face value. But perhaps the real appeal of Being There is looking for the meaning and metaphors below the surface.
Being There Blu-ray Review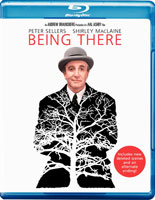 Being There is captured beautifully on Warner's Blu-ray release. The film is shown in a sharp widescreen 1080p high definition picture (1.85:1 aspect ratio). The primary audio track is in English Dolby TrueHD 1.0 with additional Dolby Digital 1.0 tracks in English, French and Spanish. All three languages as well as Portuguese are represented with optional subtitles.
The special features are led by the all-new retrospective featurette "Memories From Being There," which mainly consists of reflections from actress Illeana Douglas, granddaughter of star Melvyn Douglas. Additional features include two deleted scenes that were just recently uncovered, a gag reel, theatrical trailer and alternate ending, which was thankfully replaced. The extras are shown in standard definition.
Being There Gallery
Trailer