When I saw Fernando Meirelles' name attached to Blindness, I was immediately intrigued. The Brazilian's in-your-face style in City of God absolutely floored me. He followed it up with the more Hollywood-flavored The Constant Gardener, which was also excellent. I was hooked. Few directors have that affect on me. And with that in mind, Blindness – despite its director, despite its pedigree as a respected piece of modern literature, despite its stellar cast – is a bitter disappointment.
Blindness begins with a man going blind for no reason while stopped at an intersection. Before long, more and more people are infected with the "illness." It's massively contagious and merely leaves its victims without sight. As people are stricken with the disease, they are taken into quarantine. The groups starts out small but before long they're their own isolated community, the dawning of a new and brutal civilization.
Mysteriously, one woman (Julianne Moore) retains her vision. With her husband (Mark Ruffalo) having gone blind, she pretends she's become sick too so that she can help him. In turn, she also becomes the eyes for the horrible things that unfold. Unable to deal with the new civil order amongst each other, factions develop. One vies for supremacy and proceeds to brutalize the others. They pillage, rape, plunder, humiliate, even kill in order to gain and maintain control. It's a savage scene, an adult version of Lord of the Flies. To say it's discomforting to watch would be something of an understatement.
But that's the exact thing that had people take notice of Meirelles in the first place. After watching City of God, I had a lady walk by me. I overheard her say it was the worst thing she'd ever seen. My guess is it wasn't because of the film but rather the fact that it made her uncomfortable as she sat back in the safety and comfort of her seat – wearing a fur coat, I might add – while young boys battle it out on the streets. Similarly, I was squirmish watching Blindness. Perhaps I didn't 'get it,' but I was recognizing what I think he was trying to accomplish. However combine the discomforting storyline with the queasiness of the bleached visuals and Blindness is difficult to watch on two fronts.
Another reason for this is that, despite a large number of characters, none were sympathetic enough to truly gravitate towards. Rather, they're all in some way like the gladiators in The Running Man. They're all antagonists to one another and none show a glimmer of light for the audience. And on the couple of instances where the start of a glimmer begins to appear, a major thing happens that sends them back into the fringe.
Blindness is a huge disappointment for me. And while I'm far from ready to throw in the towel on my fanboyish glee for Meirelles' work at this point, he has become a little more human. A sliver of weakness has appeared. And maybe that's the best thing that I can take from Blindness.
Blindness DVD Review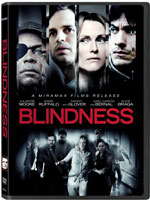 Blindness comes to DVD with a solid presentation but not a whole lot else save for one great featurette. The film is shown in a beautiful enhanced widescreen format (1.85:1 aspect ratio) with an equally solid Dolby Digital 5.1 Surround audio track. There's also English and Spanish subtitles. Bonus features include five deleted scenes with introduction written by Meirelles and "A Vision of Blindness," a beautifully shot hour-long making-of featurette that looks extensively at the film's production.
Blindness Gallery
Trailer