Focused, fun and action-packed, Disney's Bolt proves that it doesn't need the Pixar banner to make an excellent CG animated film. Riffing off the recent rush of hero films and the Disney staple of cute and cuddly animals, Bolt never loses sight of its heart.
Bolt (voiced by John Travolta) is a famous canine with his own action show. In it he displays such awesome powers as super speed, super strength, super laser vision and the super bark, which destroys everything in its path. Our behind-the-scenes view of the show lets us in on the fact that Bolt's powers are really a collection of souped up special effects. But Bolt himself lives a sheltered life where he actually believes he is super powered. He takes method acting to the extreme.
With ratings slipping, the show's producers come up with a plot where Bolt's human companion, Penny (Miley Cyrus) is kidnapped. Of course, Bolt thinks this is the real deal and he sets out to save her. Unfortunately he finds himself sent off to New York and he's got to make it back to Hollywood. Along the way he meets up with a bullying alley cat named Mittens (Susie Essman) and an overly hyper fanboy hamster named Rhino (Mark Walton, who steals the spotlight in almost every scene he's in).
Bolt is a fun blend of The Incredible Journey, The Truman Show and take your pick from the vault of superhero films produced in the last 30 years. The self referential moments are smart and not too much. In particular, the opening action sequence that is very Michael Bay-ian in how it mixes speed, angles and endlessly mounting stakes to suck you in without dizzying you. Then there's Bolt's brush with reality where he discovers a lot of what he thinks he is is merely a special effect. Although very much akin to Buzz Lightyear in synopsis, it's played out more like The Truman Show, where realizations come about in layers and there's a lasting push to become one's self, not a character to be consumed through media.
Despite all of the things that are going on in the film, Bolt never loses its focus. There's the plot that needs resolution and the characters that have to grow. Despite all the astonishing action sequences and clever behind-the-scenes bits, directors Byron Howard and Chris Williams always keep the film centered, thus enabling it to standout as one of the better Disney productions in the last decade.
Bolt Blu-ray Review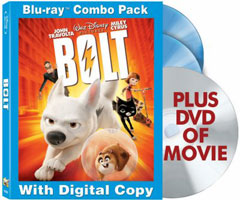 Bolt hits Blu-ray with another one of Disney's extensive combo packs consisting of the Blu-ray disc, a DVD and a Digital Copy. Specifications on the Blu-ray have the film being shown in a magnificent 1080p high definition transfer (1.78:1 aspect ratio) and English 5.1 DTS-HD Master audio. There's an additional Spanish 5.1 Dolby Digital track and English and Spanish subtitles.
Individually, the bonus features feel like bite-sized morsels, but when you put them all together you get a good sense of the making of the film. Super Rhino is a new animated short starring the scene-stealing hamster. Two deleted scenes are available with optional commentary from directors Byron Howard and Chris Williams. The directors are also the subject of the featurette "A New Breed of Directors: A Filmmakers' Journey." Two featurettes go behind the microphone and look at the movie's voice talents – particularly mega-stars Miley Cyrus and John Travolta. The two are also a part of the music video for the song "I Thought I Lost You." Finally, there's a featurette on the background paintings that give the film a distinct look, an art gallery and a set top game.
Bolt is BD Live enabled for people with Internet connections hooked into their Blu-ray players.
Bolt Gallery
Trailer