I have to admit, I was leery before sitting down with Scott Hicks' The Boys Are Back. The description made it sounded like overly dramatic drivel that is made to make me cry. I'm not a fan of crying, if I can help it, so I didn't want to be manipulated into doing so by Clive Owen. And while it's not completely void of emotional string-pulling, The Boys Are Back was a lot more honest than I expected. It takes pain and loss and gives it a slightly glossy treatment that holds the drama but doesn't quite get to the point of complete emotional puppetry.
Owen plays Joe Warr, one of Australia's most prominent sports writers. But when his wife dies of cancer, Joe is forced to suddenly become a single father to his young son Artie (Nicholas McAnulty). Neither fully understand the concept of the loss so they make a world of their own where they can simply avoid it. Joe tosses traditional rules out the window and the pair start embodying a Never Land mentality. They let the dishes pile up, they have pillow fights and they do whatever they want. This is captured in the beautiful opening sequence in which Artie is given a sunset beach ride on the hood of Joe's SUV. It's funny, its purpose isn't immediately apparent and it's a hook for the rest of the film.
The new status quo is thrown for a loop when Joe's older son Harry (George MacKay), who came from his first marriage leaves his boarding school in England to come and stay with his dad. Toss a potential love interest into the mix and grieving, childhood and bachelorhood collide.
The Boys Are Back, which is based on a true story, runs through many emotions. Although both funny and serious, there's always this overriding theme of sorrow and pain. Hicks' ability to capture this is one of the film's greatest strengths. So even when Joe and his boys seem to be having fun, there's a sense of their grieving in the background. At times it's a little too overt, such as the awkwardness in which other people address them, but often there's a genuineness to it.
Where the film failed to grab me was with some of the dynamics where Joe had to interact with his late wife's parents. While this would be awkward in real life, there didn't seem to be much of an emotional connection for them in the script. They felt more like props to hold up against Joe's unique parenting choices.
The introduction of Harry was interesting in that it brought a different scenario into the mix. Joe left Harry and his mother for Artie's late mom. This presents a natural conflict as Harry has to decide whether or not to forgive and move on.
The strength of The Boys Are Back is in the layers of its emotions. While it could have taken an easy road out and piled on the sorrow through lots of tears, monologues and crashing waves, Allan Cubitt's script goes for the less predictable. While the film was a little too sentimental for its own good at times, it was still much less overt than I was originally expecting.
The Boys Are Back DVD Review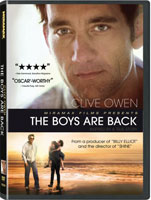 The Boys Are Back DVD is a pretty slim but appropriate affair. The movie is shown in enhanced widescreen with 5.1 Dolby Digital Surround audio. There's also a dubbed Spanish track. Special features include a photo gallery with optional commentary from director Scott Hicks that looks at the film's production. There's also the featurette "A Father and Two Sons, On Set" that has the real-life men who the film is based on paying a visit during filming.
The Boys Are Back Gallery
Trailer