Before Sam Raimi's Spider-man and the onslaught of deeper thinking superhero films, there was Kevin Smith. He saw the world of comics as something real, something inhabited by more than just basement-living losers who don't work Wednesdays so they can go to their local shop and get their weekly fix of tights and capes. Comic book characters, readers and creators are all human too and Smith was one of the first to make the world as respected and accepted as it is today. He did so by bringing a sense of reality and universality from comics to the mainstream. Chasing Amy doesn't deal directly with super heroes but it does use them as a backdrop to explore life, love and sexuality.
Holden (Ben Affleck) and Banky (Jason Lee) are the co-creators of the popular comic Bluntman and Chronic. With Smith being the delightful cross-referencing fiend that he is, Bluntman and Chronic are the fictional representations of Jay and Silent Bob from Clerks and all of his View Askew films. Holden and Banky are best friends who know and share everything about one another. If they weren't a couple of straight guys, you might even mistake them for a couple. At least that's what Smith wants to portray. So when Alyssa (Joey Lauren Adams) comes along and strikes up a relationship with Holden, things get complicated. Adding to the complexity is the fact that Alyssa is a lesbian. Or at least was. Or was exploring.
Chasing Amy is Smith's most mature film. Yes, it's filled with crude dialogue, blunt descriptions of sex and an overkill of Star Wars references, but it uses these to dig deeper and make its subject matter more accessible. The excellent, non-apologetic characterizations help too. The script tackles the somewhat taboo subject of sexuality unlike most films that land in the mainstream. It's not about the act itself, but rather the implications and affect it has on a relationship. Smith isn't just tackling homosexuality versus heterosexuality but rather gender roles and what specifically makes up a sexual relationship. Amidst all the cussing and crudeness, there is quite a bit of depth to it.
Smith has made a career by saying it like it is and in a way that feels authentic. He has an ear for honest dialogue that is both funny and insightful. It's also crude, blunt and sometimes it relies too much on pop culture references, yet he's a man of truth. That is, truth that comes from a Gen X observer who comes from a middle class male perspective. I do think there is something a little more universal to it, as I know I can relate to a lot of the feelings he touches on in his own way. So I don't think he's going after some sort of male fantasy here. Chasing Amy is deeper. Even with all the sex talk, it's really not at all sexy. And that's what gives it a sense of honesty and the movie memorable.
Chasing Amy Blu-ray Review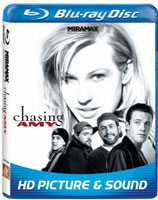 It's time to retire the old Criterion DVD of Chasing Amy. The film comes to Blu-ray with a 1080p high definition presentation (1.85:1 aspect ratio) with a main audio track in English 5.1 DTS-HD Master Audio. An additional track is available in Spanish 2.0 Dolby Digital. English and Spanish subtitles are also offered.
As far as bonus features go, there's several new features that offer a reflective look back. Kevin Smith and producer Scott Mosier offer an audio commentary that insightful and conversation but it's not all that deep. Much more comprehensive is the feature-length making-of documentary 'Tracy Amy,' which provides an honest and frank look at the film. Because it's new, it offers some distance and reflection for its subjects. The informal nature continues with both 'Was It Something I Said?' a chat between Smith and Joey Lauren Adams in a comic shop, and '10 Years Later Q & A' that was filmed at a convention and features all the top talent. Finally, there's ten deleted scenes.
Chasing Amy Gallery
Trailer