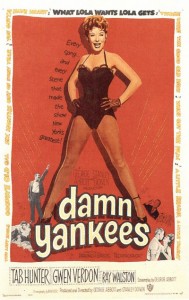 For most, music and baseball begins and ends with "Take Me Out to the Ballgame." But when it comes to baseball and Broadway, Damn Yankees adds a ton of fun to the canon. From book to Broadway to Hollywood, the Faustian adaptation has has its share of tellings and re-tellings. As a movie, it's a lively celebration of baseball as America's pastime set during an era where the game was at its peak.
Joe is a suffering Washington Senators fan. An Average Joe in the truest sense, he's offered a chance to trade his soul to the devilish Mr. Applegate (Ray Walston) in exchange for a shot at becoming the long-suffering team's savior. Of course, Joe takes the offer, transforming into Joe Boyd (played by Tab Hunter), a small-town boy who long balls his way into a walk-on spot on the Senators and a chance at wrestling the pennant away from the Yankees.
But as Joe realizes there's more to life than hitting home runs, Mr. Applegate tries to thwart him and keep their deal in tact. Songs and seduction ensue as Joe emerges as a phenom with the Senators and gets his teammates over-performing.
Damn Yankees is full of energy and catchy songs. They all compliment the film nicely and add depth and comedy to a spin on a familiar tale. Save for the lead role taken on by Tab Hunter, much of the original Broadway cast reprised their roles for the film. I've never seen any other adaptations of the story, Broadway or otherwise, so I can't say how faithful it is to the play or how it compares. But that really shouldn't matter. As a film, Bob Fosse's choreography is fun and works well for the screen. While there are plenty of song and dance routines, there's also lots of narrative. The result is a nice balance.
Everyone in Damn Yankees plays their role well, particularly the supporting stars. Hunter feel a little stone-faced and stiff, but that's the point. Joe Boyd is the baseball star. He's not necessarily supposed to sing and dance. That's what the others around him are there for, to react and try and get him to react. Joe's teammates are there primarily for comedy and never should be taken seriously. The real highlight, for me, is Walston. I grew up seeing him as Mr. Hand from Fast Times at Ridgemont High and a handful of My Favorite Martian repeats. Here, he's perfectly evil and weaselly, playing the slick serpent perfectly.
Because it's a musical, Damn Yankees automatically stands out from other baseball movies. It's a lot of fun and easy to root for. And it's not just because of its anti-Yankees stance.
Trailer