What exactly is "real life"? It is something that is very personal and individual. The guy who lives down the street from me in the blue house is very real, but I bet the way he lives his life is very different from mine. Therefore "real life" becomes a somewhat arbitrary term. Why is it then that Peter Hedges Dan in Real Life feels so – well – real? I don't have romping family reunions and I certainly don't gather with my loved ones for a family crossword competition. The answer to Dan in Real Life's sense for reality is in its emotional core. Because it touches on the universal themes of loss and love so honestly, it is a film that feels authentic even in its many contrivances.
Dan Burns (Steve Carell) is a column writer who comes across as the ultimate family man. He offers sound advice, yet he has trouble following some of his own rules. He's also a single dad of three daughters following the passing of his wife. Of course, Dan struggles to understand his daughters much like most of us men struggle to understand women Sorry, ladies. If it's any consolation we do try.
While heading home for the holidays at his parents' cozy east coast home, Dan finally meets a girl he's interested in enough to get out of his mourning funk. They meet in a book store, chat over a muffin and really hit it off. The problem – it turns out the girl, Marie (Juliette Binoche), is Dan's once-womanizing brother's (Dane Cook) new girlfriend. While at the cottage, romantic tension flares between Dan and Marie as they both know that they're interested in each other.
What works in Dan in Real Life is its characters. Although they're almost all from the same family, each individual character is unique. Yet at the same time, they share the same core and still feel like a family despite their personality differences. The best illustration of this is Dan's three daughters. The oldest is Jane (Alison Pill), who's the level-headed one. Getting ready for college, she's like the wise mother hen despite her inexperience with life. Next is Cara (Brittany Robertson), the fiery teenager who's learning about love for the first time and is against anything that involves both her and her father being together in public. Finally there's the baby of the family, Lilly (Marlene Lawston), who is lonely for her mother and still loves Dan unconditionally both in front of him and when he's not looking. Although they may sound somewhat cliche, they're really not. Together they bring both balance and turmoil to the central story, that of Dan's learning to move on and be open to love again.
Carell is perfectly suited for the role of Dan. He plays much the same person as he does in TV's The Office, minus the cocky and poser-ish attitude. Carell has emerged as Hollywood's go-to everyman seeing as how Will Ferrell is obsessed with body hair in almost all of his films. It's easy for everyday people like me to relate to Carell, largely because he's not afraid to poke fun at himself. That and he doesn't look like Brad Pitt or George Clooney. And at the same time he's not a circus sideshow where he's so over the top you can't take him seriously. Sure, Carell has his moments, but they're limited to choice opportunities that have great impact.
However with all the great characters, there's something missing in the central triangle between Dan, Marie and Dan's brother Mitch – chemistry. Firstly, Mitch and Marie just don't look like they'd date. She looks older and yet this isn't even mentioned. Rather than tip-toe around it, why not play up the angle? It need not be offensive that Marie is an older woman. In fact, it could be the opposite and a rare Hollywood celebration for women older than 35 and younger than 60. I even had trouble sensing the attraction between Dan and Marie. Love at first sight is hard to pull off in film because you don't have much time or the liberty of internal thought like in a book. Instead we get a lot of Dan talking about his back story and Marie listening. This succeeds in getting Dan across as a good guy but it does little to build up Marie as a candidate to break his spell.
Even still, there's enough interactions between the rest of the family to make up for some of the shortcomings in the main storyline. Dan in Real Life is ultimately an honest and often funny film with its heart in the right place.
Dan in Real Life DVD Review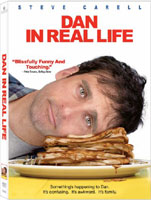 Dan in Real Life is presented in a pleasant enhanced widescreen picture. The colours look as they should and there was nothing overtly noticeable about the transfer quality. Audio is in Dolby 5.1 Surround with optional dubbed tracks in French and Spanish. Subtitles are offered in English, Spanish and French.
Bonus features are led by a commentary track with writer-director Peter Hedges. He offers a balance of back story, interpretation and high-flying the cast and crew. "Just Like Family" is a slightly better-than-average making-of featurette that looks at how the film came together. What makes the 15-minute production nicer is that the interview clips actually show some depth to them rather than comments like, "I liked making Dan in Real Life." and "Is it rude to say I love myself?" "Homemade Music" looks at the film's musical approach. The DVD also includes 11 deleted scenes with option commentary from Hedges, outtakes and previews for Wall-E, Enchanted and Becoming Jane, and TV's Army Wives and Ugly Betty. I did find an Easter egg that had more Steve Carell outtakes.
Dan in Real Life Gallery
Trailer