Deadly creatures, haunted houses and terrified residents are nothing new to horror films. In fact, they're all staples to the genre that have been around for seemingly ever and will continue to do so well into the future. So if those are some of the genre's expectations, then it's how they're used that makes a horror film good or not. John Newland's made-for-TV Don't Be Afraid of the Dark sticks to the familiar but he does it in such a way that it's still extremely creepy, a little bit campy and, at times, quite a lot of fun.
Sally (Kim Darby) and Alex (Jim Hutton) inherit an old, musty house from Sally's grandma. Rather than taking their place amongst the urban upper crust, the couple opt to move into the house and update it with a little more modern flair. Despite warnings from old-timers who know the house and its mysterious history, Sally ventures into a locked up office and proceeds to mess around. Unbeknownst to her, she opens a Pandora's Box of sorts, unleashing a group of mini demons that proceed to terrorize her.
Lurking in the shadows, these monsters whisper at the most opportune times – when only Sally can hear her. She's understandably frightened, but it also gives the little ankle biters another edge. To everyone else Sally is imagining things. It doesn't take long for her to look a wee bit crazy to those around her. Sally knows this but is helpless against it. She becomes worn down and even more vulnerable to the fear.
Being a made-for-TV movie, the amount of violence and blood is extremely limited. But Newland's direction and the script from Nigel McKeand prove that neither are necessary for making a tense film. As the title suggests, Don't Be Afraid of the Dark gets to the root of fear through psychology. It builds suspense through the unknown and the mystery. Because haunted houses, demons and the like are nothing new, there's certain expectations of how things are going to play out. So in order to build suspense Newland plays with those expectations a bit. The acknowledgement of the demons is given early on. Yet they're hidden in shadows so you don't know exactly what they are until later. This is a simple and effective way of keeping the guessing going. And when the monsters are unveiled they're not a disappointment. They're hard to describe but their scarred cone-shaped heads and dark eyes are more than a little freaky. Add to that the solid effects that make them over-sized rats and you've got the visual of Munchkins from Hell.
Having originally aired in 1973, some of the terror is lost with age. While the visuals are a strength of the film, they're still quite primitive when you compare it to the seamless magic that is possible with today's computers. So while Don't Be Afraid of the Dark is certainly creepy, it's hard not to chuckle at inopportune times as well. But overall, the psychology of the movie holds up very well, something that's of the utmost importance for any horror film.
Don't Be Afraid of the Dark DVD Review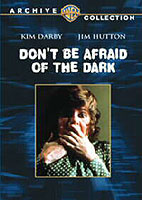 Don't Be Afraid of the Dark comes to DVD as a part of Warner's print-on-demand Warner Archives collection. The disc is a barebones affair without any bonus features but the film's cult status will likely make fans happy that it's available. The full screen picture is okay but doesn't appear to have any significant upgrades. Likewise, the Dolby mono soundtrack is nothing spectacular but it preserves the film in its original form.