Before 24-hour cartoon channels and Adult Swim, there was the Saturday morning cartoon. It was part of a weekend ritual in which school-aged children in the Western world would creep downstairs, grab a bowl of cereal or plate of cold pepperoni pizza and flip aimlessly from lame cartoon to lame cartoon. Kids loved it because they could hang out hour after hour with their animated friends before moving on to playing Super Mario Brothers and Excitebike for the rest of the day. The best part: the parents were happy to let them do it because for one day a week they could sleep late or – you know – without having to pay for a babysitter.
The Saturday morning cartoon has all but disappeared in its classic form. Now it's Saturday morning all the time if you want it to be. There's always a cartoon on and, as a result, they've lost their specialness. With that in mind, Drawn Together is sort of a nostalgia trip for the Captain Crunch generation. It plays with classic cartoon characters and gives it a definite adult feel. But just because you're rude, crude and reference The A-Team on multiple occasions it doesn't mean you're classic yourself.
Framed as a reality show in which eight cartoon characters live together á la The Real World, it's really just an excuse for all sorts of mayhem featuring eccentric spoofs of such classic cartoon characters as Betty Boop, Spongebob Squarepants and Pikachu, not to mention archetypes like the animated princess, the jock superhero and the ultra-tough Blaxploitation alpha-female.
There's plenty of random humour and pop culture references like in Family Guy as well as tons of no-holds-barred crude gags and language like South Park, Drawn Together takes the adult cartoon to a new level as far as pushing buttons. Although I got lots of the references, those not familiar with the Saturday morning cartoon ritual will likely have a lot of the jokes fly over their head. But even with an understanding of the show's culture and angle, Drawn Together ultimately isn't that funny. It's got plenty of "I can't believe I just saw that" moments, but shock value only goes so far. Or maybe I'm just lame because I don't laugh every time I hear a cartoon character swear or when they talk about shoving things up and down all parts of their bodies.
Like all nostalgia, it can only take you so far. Eventually you have to reinvent an aspect. There's so many references that nothing is reinvented, rather just mashed together and thrown in the adult blender. I found the gags repetitive for the most part, although the episode "Breakfast Food Killer" came the closest to an enduring satire rather than a series of random jokes.
From as best as I could gather, I'm the target audience of Drawn Together. I've seen all the shows they're making fun of and referencing, I'm old enough to listen to cussing and I too see the humour in Mr. T and the rest of his A-Team pals. Yet I still had a hard time getting into the third season of Drawn Together. It simply feels like it's trying extra hard to mix nostalgia with controversy in the most holy of weekend rituals that doesn't fall on a Sunday: the Saturday morning cartoon binge.
Drawn Together: Season Three DVD Review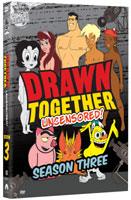 Drawn Together: Season Three collects 13 episodes. Each are shown in their original full screen format with English Dolby Digital stereo audio. The picture and sound is solid, although I could have really used without the "The Daily Show, coming up next" graphic included in the occasional episode.
Bonus features include lively commentaries on four episodes ("Greeks and Freaks", "Lost in Parking Space, Part I", "Drawn Together Babies" and "Breakfast Food Killer"), karaoke and sing-along modes for six songs, promos for all three seasons, two Comedy Central Quickies featuring South Park and The Sarah Silverman program and previews for South Park: Imaginationland, TV Funhouse and Drawn Together: Season Two previews.