Once you leave high school behind, it's tough to remember what's it's like to be there again. I know I tried to suppress a lot of it from my mind. So many films try and get into the genuine teenaged mind set and most fail. Although far from great, Steven Brill's Drillbit Taylor has enough heart and insight into the complexities of being a teenager today that you can overlook some of its other shortcomings – primarily in the tired act of the titular character.
Wade (Nate Hartley), Ryan (Troy Gentile) and Emmitt (David Dorfman) are new to high school. Being retro-1980s nerd caricatures in public, or freaks as the film likes to introduce them as, it's not surprising that they're singled out, picked on and overall un-cool with the masses. Away from the crowds, the trio do show a more personable side, one that I know I could relate to in some ways and I'm sure others could as well. However, save for a couple of exceptions, it's the nerdy public scenes that have the "biggest" moments and, therefore, drive the film's narrative.
Enter Drillbit Taylor (Owen Wilson), a homeless and disenfranchised former member of the military who comes cheap and promises to take care of the boys' bully problem. He's an unorthodox version of Mr. Miyagi from The Karate Kid, training the boys to not only take on the bullies but also impress the ladies. Drillbit's motives are suspect at best, but he manages to weasel his way into their lives and incites change, even if it is inadvertent.
The best moments of Drillbit Taylor are the ones where the boys are left to their own vices. It's at these times that they reveal their characters as being more than losers based solely on the appearance. Wade is your skinny beanpole complete with un-cool glasses and awkward hair. Ryan's your prototype overweight kid and Emmitt is a powder keg mouse who mom's around the world would describe as a late bloomer. All of these are clichés that we've seen over and over again and unfortunately the film spends too much time wallowing in their lamentations. The boys all know their shortcomings and that's part of why they want Drillbit to help them overcome. The film offers some genuinely funny moments when Wade and Ryan are just hanging out together, showing their other sides.
Wilson doesn't diverge much from the surfer act he's done so often. Calm, collected and remarkably dull, the titular role doesn't offer enough to be the focal point of the film. Like Mr. Miyagi, the film may have benefited from having the Drillbit step out of the spotlight. Sure, provide him with regular scenes but let the kids take over rather than have Drillbit fall in love in an inconsequential subplot.
Drillbit Taylor works best when it doesn't feel like something rushed. There is an honesty buried in the characters of the three boys but it's so often swept aside for the screwball antics of the titular character. It's too bad because this sort of honesty is rare and it could have made for a much more interesting take, albeit one that would have certainly been a bigger box office risk.
Drillbit Taylor DVD Review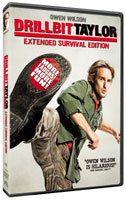 The Drillbit Taylor: Extended Survival Edition DVD comes with a variety of simple but sometimes fun special features. Director Steven Brill, co-writer Kristofor Brown and stars Troy Gentile, Nate Hartley and David Dorfman provide a commentary track that's not exactly enlightening but it does offer a little bit of insight. Brown and Rogen chat on the phone about their workings together, which seems to exist largely to capitalize off of Rogen's new-found fame. Thirteen deleted scenes totaling 17 minutes are hit and miss. Other features include a breakdown of the script with Line-O-Rama, a gag reel,a handful of short behind-the-scenes bits and your typical collection of previews. The film is shown with a clean enhanced widescreen picture and 5.1 Dolby Surround. Dubbed tracks are offered in French and Spanish, with optional subtitles in English, French and Spanish.
Drillbit Taylor Gallery
Trailer