With mystery, sorrow, betrayal, action, a pending nuclear apocalypse and a hot Eric Clapton score, Eric Campbell's British mini-series Edge of Darkness brings a little bit of everything. Dark and edgy, it goes beyond traditional thrillers and infuses a deep sense of emotion and commentary to create a truly dynamic production. Factor in the great cast and an anything-goes attitude and you've got five hours of riveting viewing.
Detective Inspector Ronald Craven (Bob Peck) has already lost his wife. He's also got an estranged relationship with his daughter Emma (Joanne Whalley), a free-spirited activist who is suspected of being in deep with an anti-nuclear group named Gaia. When Emma is shot in front of Craven, the already distant Craven aims to not only find his daughter's killer but figure out why she was murdered. The mystery takes him deep into a world of the ultimate in corporate greed and nuclear irresponsibility.
The soul of Edge of Darkness comes from the many-layered attributes of Craven and the ensuing performance from Peck. Here's a tough man's man not unlike Clint Eastwood's Dirty Harry or Charles Bronson's Paul Kersey from Death Wish. Stoic, touch and courageous, he's also filled with unsettling emotions. From the get-go he's dealing with the grief of his wife. Compound it with Emma's murder and the questions surrounding the incident and you've got a whole lot of pent up emotions. Rather than simply having him run around with a loaded gun and take out every bad guy in sight Campbell shows Craven breakdown and be vulnerable. This makes it very easy to care for and connect with Craven as he gets deeper and deeper into the mystery.
As Craven digs into the case and finds himself involved, he cares very little for what's happening outside of his own search for justice. Activist, corporate and government sides all have vested interests in what Craven finds or doesn't find. This makes for a very complex storyline as you try and sort out who's with who and who's double-crossing who. There's absolutely zero sense of trust outside of Craven, which only adds to the confusion inside the main character's mind.
The dark atmosphere is captured both in the look and the feel of the mini-series. Guitar legend Eric Clapton's score only fuels this further with emotional riffs. I got a sense of Miami Vice, where happy endings were rare and the style and music often reflected this. But make no mistake about it, Craven is no Crockett or Tubbs. He's a man filled with tragedy and sadness, which drives him to the brink in order to find peace within himself. And it's in this emotional core that Edge of Darkness truly excels.
Edge of Darkness DVD Review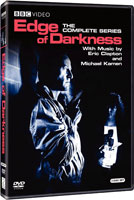 The six-part mini-series comes to DVD as a two-disc set featuring a fairly substantial mix of bonus features. Episodes are shown in full screen format with a solid-looking picture that's not perfect but is certainly acceptable. Audio is in English mono with optional subtitles. There's also an isolated score that removes the dialogue and sound effects, leaving only the memorable score. Other bonus features include a slightly altered closing sequence, interview clips, a featurette on the mini-series' secrets, awards highlights and archival footage from the BBC.
Edge of Darkness Gallery