The pretty, pretty princess has been a Disney staple for decades. What began as utopian retelling of classic fairy tales has become a driving brand within one of the world's most recognizable corporations. But in recent years the general public has become tired with the whole princess thing. We're too comfortable with pretty girls singing to furry animals about charming princes, craggy old folks being evil and sparkly magic things. Perhaps this is why Enchanted is so refreshing. It pulls out all the stops in hitting all the familiarities of the trademark genre and spins it on its head in both a fun and intelligent way.
The film begins with the lovely (and animated) Giselle (Amy Adams) in a beautiful dress singing to her furry friends. She's looking for the most powerful thing in the world – love's first kiss. And here I thought it was the Atomic bomb. After fending off a giant troll (take that Shrek), she finds her man in Prince Edward (James Marsden). The next day they are set to wed but the Queen (Susan Sarandon) isn't too happy so down the magical well goes Giselle, banished to the real life world of New York where she navigates the streets to find her way back home. It's not long inadvertently discovers what it's like to be human and experience true love at the hands of a grumpy yet charming divorce lawyer (Patrick Dempsey).
The bridge is now set for a post-modern spectacle where the princess genre and the live action romantic comedy are melded together into a delicious farce. I am in the minority but I was never a fan of Shrek, in large part because of it's mean-spirited approach. It felt to me like the chef who knew he could be second best at best so he resorts to putting down the best there is as a way to try and make himself better. Enchanted on the other hand, comes from the house of the idea. Therefore Disney is in a better position to poke fun at itself. Enchanted respects the rules of the genre but it also makes fun of itself and creates a fresh spin for those who are bored with what they've grown up with and not seen it change much save for the colour of the dresses.
A lot of the credit for Enchanted's success has to go to Adams. Giselle is a delicate character to take on as she could easily come across as ridiculous. And normally when something's ridiculous you don't care for it. And in film, if you don't care about the main character you might as well stop watching it. Adams provides the perfect enough balance of dimwitted comedy and princess passion to make Giselle one of the most memorable characters I've seen in some time.
There are times when Enchanted falls a little too far into cliché hell but it's not long before a catchy yet ridiculous song pulls it out of its funk. I do worry that my young daughter who doesn't understand the somewhat abstract concept of satire will want to see this over and over and over and over and then watch it again. But if I can have it "take a break" as we say in our house, Enchanted will stay in my good books.
With both a deep understanding of the princess movie and its root, as well as an acknowledgment that it's tired, Enchanted has reinvigorated the genre and made it interesting for the first time in well over a decade. That doesn't mean that I want to see Disney go out and make a string of such spoofs, but it's still refreshing to see them not take themselves too seriously for once.
Enchanted DVD Review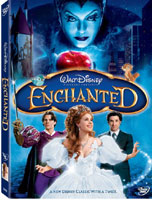 Disney's DVD release for Enchanted is solid but not spectacular. Technically, it's sound with a sharp enhanced widescreen picture (2.35:1 aspect ratio). English audio is in both DTS 5.1 Surround and Dolby Digital 5.1 Surround. There's also optional dubbed tracks and subtitles in French and Spanish.
The bonus features are led by the three-part featurette "Fantasy Comes to Life," which breaks down the making of the film. Pip's Predicament: A Pop-Up Adventure takes the film's chipmunk and puts him in an animated short that has the look and feel of a pop-up book. The DVD also includes a blooper reel, six deleted scenes, a short bit on the Blu-Ray advantages and a healthy dose of Disney trailers and previews.
Enchanted Gallery
Trailer