Mike Judge has made a career out of pulling both the truth and the humor out of the mundane parts of life. His works are typically filled with everyday slackers and underachievers that are coupled with awkward dispositions that make them stand out in a crowd. This leads to easy and often hilarious comedic set ups and distracts from the lack of story. But what Judge typically lacks in plot, he makes up for in insight. Extract is a classic Judge film: somewhat uneven but filled with interesting, albeit clueless, characters and funny set-ups.
Jason Bateman stars as Joel, the owner of a small company that produces various types of extract. His marriage is more of a living arrangement and both he and his wife's (Kristen Wiig) minds are starting to wander. Just as things at the business are starting to look good for Joel and the possibility of selling out presents itself, a nasty little accident on the factory floor puts all of it in jeopardy. With million-dollar settlements being thrown around, a gold-digging scam artist (Mila Kunis) comes onto the scene looking to cash in.
At times Extract gets caught up in being the factory floor Office Space equivalent. While the gags are often funny, the real story takes place in the office and away from the floor. This makes for several simple laughs, such as the bickering old ladies who'd make good wives for the balcony-dwelling Statler and Waldorf from The Muppet Show. But ultimately I question the purpose of so much time being devoted to these bits. The characters and the point are established well very early on, so much of it ends up being repetition and distracting from the real story.
Another thing that made it difficult for me to get behind Extract is the fact that I didn't want to get behind any of the characters. They all had some very nasty aspects to their personalities that made the film feel mean-spirited at times. This is a common trait in Judge's works. It may help people see and relate to aspects of their own lives but I still think there needs to be even a small thing that makes you want to root for at least one of the primary characters. I'm not calling for a preachy moral contrivance but rather something that makes Judge go a little deeper.
Honestly, I'm writing this after watching the movie for a second time. I let a couple of days pass between watching and writing but nothing totally stood out. I needed reminding.  But once I got into it again, the situations and characters came flooding back. So on the one hand, Extract is enjoyable while it's on. But as far as lasting impressions go, there's not much more to point out than the fact that I forgot much of it not long after seeing it.
Extract Blu-ray Review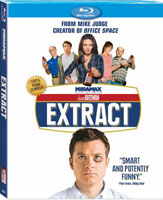 The Extract Blu-ray is a somewhat standard release. The film is shown in 1080p high definition widescreen (1.85:1 aspect ratio) with English 5.1 DTS-HD Master Audio. There's also a dubbed 5.1 Dolby Digital French track. The bonus features are led by a cookie cutter making-of featurette that runs about 11 minutes. There's also five extended scenes and a short deleted scene.
Extract Gallery
Trailer