Temptation is a dangerous thing. Being tempted by a crazed woman with whom you end up having an affair with takes danger to another level, at least in Adrian Lyne's modern classic Fatal Attraction.
Although its set in a distinctly 1980s backdrop of greed and social status, Fatal Attraction is a morality tale that could easily be transferred over to any era. Michael Douglas plays New York attorney Dan Gallagher, a middle aged family man with a young daughter, a successful career and a strong home. Despite achieving what most would consider the American Dream, Dan finds a way to throw it into chaos.
With his wife and daughter away for a couple of days, Dan finds himself in the middle of a fling with Alex, a client with his firm. When he goes to shrug things off, Alex becomes possessive, unstable and downright psychotic in her plight to keep Dan. From here the film changes to chart the progressively more destructive and desperate attempts to get Dan back.
Although Close's Alex should be standing alongside the likes of Darth Vader, Hannibal Lecter and Freddy Kreuger on any list of all-time great villains, it's actually hard to root for anyone in Fatal Attraction. Although the protagonist, Dan isn't exactly the classic example of a knight in shining armor. In 99 percent of any other movie you'd look at the character and think sleaze ball. But director Lyne has flipped the focus away from good people and bad people and instead honed in on human nature. For every choice there is a consequence.
The film benefits greatly from the added depths it explores. It would have been easy to simply have Alex go on the hunt and stalk her prey. Instead Lyne looks inward on the dynamics of Dan and everything he touches. The short affair affects his work, there's a new twist on his marriage as he tries to hide certain facts and move ahead. Even Dan's daughter isn't immune to it all. It's with this complexity that Fatal Attraction reaches the heights that it does.
Sure, the final moments are a little silly, especially in the years since in which it has played over and over and over in other thrillers like a broken record. Even still, Fatal Attraction is an exceptionally well-written, well-acted and well-directed thriller that extends beyond the boundaries mainstream films typically set. It's equal parts tense, steamy, dramatic and insightful, with even a few dashes of occasional charm and humor.
Fatal Attraction Blu-ray Review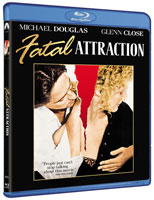 If you like exploring a film from several angles, the Fatal Attraction Blu-ray has the bases covered – even if the technical aspects aren't pristine. The film is shown in 1080p high definition widescreen. Overall, the film looks good but there are regular blips of dirt and the occasional scratch. Audio is in English 5.1 Dolby TrueHD with dubbed tracks in French Dolby Surround and Spanish Mono. Subtitles are also offered in all three languages plus Portuguese.
The bonus features are kicked off by a somewhat sparse commentary track from director Adrian Lyne. He returns for an optional commentary on an alternate ending. It's in the three simply set featurettes that a lot of the information on the film emerges. "Forever Fatal" looks at the film as a historical artifact, tracing it all the way back to its beginnings. "Social Attraction" is my person favorite amongst the bonus features. It explores the cultural impact the movie had. Finall, "Visual Attraction" looks at the behind the scenes happenings. Additional features include rehearsal footage and the film's original theatrical trailer. All bonus features except for the alternate ending and the trailer are shown in standard definition.
Fatal Attraction Gallery
Trailer