So let me get this straight – I'm supposed to buy that it's a stretch for Audrey Hepburn to go from a conservative book store clerk to a world-class model? The same Audrey Hepburn who is one of the most glamorous women in the history of film? Yeah, I'm not buying it. Despite some memorable musical numbers, gorgeous sets and energy galore, there's something about Funny Face that wasn't working for me, and it wasn't just the absurd idea about Audrey Hepburn being a frumpy bore.
Hepburn plays Jo Stockton, a reserved book store worker in Greenwich Village who happens to be in the right place at the right time. "Quality," a women's magazine in the mold of "Vogue" just happened to be in search of a photo shoot locale when they just happen to drive by her store. Despite fumbling around in the background, Jo and her "funny face" catch the attention of veteran photographer Dick Avery (Fred Astaire). And so begins a new career for Jo as an international model.
Written originally as a stage musical by Leonard Gershe, Funny Face was finally brought to the screen with songs from George and Ira Gershwin. I can't say all the musical numbers were memorable, but some were. In particular, the film kicks off with the very catchy "Think Pink," which I thought was going to set the tone for the rest of the film. The energy was maintained for the most part, with Astaire given a couple of chances to shine with his happy feet, but on a whole there's something about Funny Face that just felt, well, funny to me.
A big part had to do with the fact that Hepburn is shown in a beautiful light no matter if she's struggle in the shadows of her book store or glamming it in front of the cameras in Paris. It could've been a move to show that her beauty was more than just her looks, but I'm not buying that. Dick goes after her simply based on her appearance. That's what drew him to her when she inadvertently turned up on his film. It's only as the predictable romance angle comes out that we learn more about her character depth.
While I might not have been fully buying into the romance angle and the central story, there is some tremendous style attached to Funny Face. As usual, Hepburn shines whenever she's on the screen. No matter the outfit, no matter the location (and there's some beautiful and interesting ones here), she stands out like a beacon. Dressed down she's lavish, dressed lavishly she borders angelic. A half century later, Hepburn remains a style icon. She also brings a lot of energy to the role of Jo as she goes from reserved clerk, to model, to dancing in an artsy club. Hepburn's iconic appeal might be cornered in fashion, but she shows here that she's also much more when given the opportunity.
But ultimately one person alone can't save Funny Face. Hepburn and Astaire never created the right amount of chemistry to make their budding relationship seem plausible, even in a world where song and dance routines can break out at any moment. Despite some memorable moments, the film lacks the magic that made so many of Hepburn's other films so great.
Funny Face DVD Review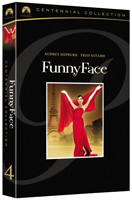 Of the first five Centennial Collection releases from Paramount, Funny Face is probably the least elaborate of the bunch but it's still much more impressive than the vast majority of releases for films from the era. The movie is shown in a beautiful enhanced widescreen picture that make the beautiful colors pop. The main English audio track booms in Dolby 5.1 Surround with complimentary tracks coming in English restored mono, French mono and Spanish mono. Subtitles are offered in all three languages.
All of the release's bonus features can be found on the second disc and unlike other Centennial Collection releases, this one doesn't focus almost exclusively on Audrey Hepburn. The first featurette pays tribute to Kay Thompson in "Think Pink." "This is VistaVision" is a nearly half-hour look at how the technological change arose from the advent of television. In "Fashion Photographers Exposed," a contemporary light is shed on the art of photography, mixed with clips from the film. "The Fashion Designer and His Muse" explores the myth of Audrey Hepburn and her connection with iconic designer Hubert de Givenchy. Additional features include a quick look at the importance of Paris in the film, a retrospective look at Paramount in the 1950s, a photo gallery and the film's theatrical trailer.
Funny Face Gallery
Trailer