Have you ever had something start out so well only to have it finish so blandly that it hurt the whole experience? Maybe the salmon fillet was excellent but there was a hair from the kitchen staff there to greet you with your slice of cheesecake. Or the wedding ceremony went off without a hitch but the rain started to pour as soon as the cameras came out. Welcome to Ghost Town, a delightful comedy with an edge of romance that is taken down a notch from its utterly drippy ending.
English dentist Bertram Pincus (Ricky Gervais) loves his job for the simple fact that the moment he sticks something in his patients' mouths he no longer has to listen to them speak. He's a man happy in his solitude, able to bask in his material successes without excuses. Pincus is a somewhat familiar character type – the Scrooge who has all the quality stuff and the nice pad to keep it all in but he's so shallow he doesn't care that he's all alone.
Following a freak accident on the operation table for a relatively routine procedure, Pincus discovers he died for seven minutes before returning to life. Upon his return, Pincus gains the Shamalayan-ian sixth sense and can see and talk to dead people. Ghosts of generations past make Pincus the most popular guy in town as they seek his help in gaining personal resolve and a way to pass on into the next world in peace.
A romance angle comes in when one particularly ingenious ghost (Frank Herlihy) enlists Pincus to win over his wife (Téa Leoni) before she marries to some smarmy jerk-type. The predictable ensues with a few unpredictable points, which ultimately lead back to the road of predictability.
Just as he's shown with The Office (the original) and Extras, Gervais proves that he is one of the current masters of sarcasm in the entertainment world. He plays the jerk so well, yet he brings a warm and fuzzy truth to it. He's like a smart drinking buddy who speaks for you and takes all the lumps but ultimately finishes with the upper hand. It's much the same love-hate sort of feelings for Gervais here as he plays a similar role, albeit one who is ultimately a little more sympathetic than his British television parts.
For the first three-quarters of the film, Ghost Town is a pleasing spin on the Ghost concept in that it takes romance and gives it a supernatural twist. Things are much less perfect here as both sides of the living are looking for certain types of redemption and closure.
The writing is smart and the sharp with several playful surprises that play up the idea of predictability and expectation. It raises a level of comfort that comes with expecting something to happen, takes it away with a slight twist but then gives you the same result. Ultimately, it's a matter of a different means to the same ends. The idea is cute at first in introducing the film and its characters but when it comes full circle to bring the story closure it nearly wrecks the film.
Still, the sharp banter from Gervais is worthwhile in itself and Kinear isn't too bad either. With enough smart laughs, Ghost Town is able to overcome its very weak ending.
Ghost Town Blu-ray Review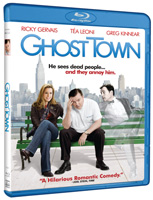 Let's face it, not all home video releases are treated equally. Some get a movie on a disc, others get a few solid yet worthwhile features and others still get the full package, a lot of which you'll probably never watch. The Ghost Town Blu-ray falls into the second category. There's not a ton of stuff to list, but what is there is certainly solid.
The film is shown in widescreen 1080p high definition with superb results. Audio comes in English 5.1 Dolby TrueHD and dubbed 5.1 Dolby Digital Spanish and French. Subtitles are offered in English, French, Spanish and Portuguese. Star Ricky Gervais and writer-director David Koepp provide a hilarious commentary track. It's largely dominated by Gervais and his borderline "gone too far" brand of humor. "Making Ghost Town" runs more than 20 minutes and contains a lot of behind-the-scenes shots, interviews and film clips. "Ghostly Effects" provides a brief glimpse at how some of the film's most memorable shots came together. There's not a lot of context, just lots of different computer looking techniques broken down into their individual layers. Finally, there's "Some People Can Do It," which amounts to a six-minute blooper reel. All of the featurettes are presented in high definition.
Ghost Town Gallery
Trailer