A short time ago Napoleon Dynamite was all the rage with the cool kids. It took a very loose plot, mixed it with an underdog nerd for a main character, shook it up with tons of random gags and baked it with a kitschy pop soundtrack. Then when the novelty wore off and the talking dolls' batteries died the cool kids logged onto YouTube and discovered Andy Samberg and realized Saturday Night Live can still be funny. With that Hot Rod was born. It's a simple comedy that tries to be nothing but. At times it is simple hilarity, other times it's a little too "Napoleon Dynamite" for its own good.
Samberg plays Rod Kimble, a small town underachiever who spends his time trying to jump small transport trucks and outdoor swimming pools. Without giving too much of his skills away, let's just say a lot of the early laughs come from Rod crashing and burning. When his stepdad (Ian McShane) is stricken with cancer and given only a short time to live, Rod decides to be the hero and raise some cash by jumping an unheard of 15 buses. Rod's reasoning – he wants his stepdad to live so he can beat him up fair and square one day. Rooted on by his circle of equally underachieving pals, Rod embarks on a naïve journey toward greatness.
Much of the humor in Hot Rod is simple, one-off gags that have little to do with the plot as a whole, but rather just because they make for a good joke. Whether it's having Rod and his pit crew stand back and watch the worst fireworks display ever or Rod having a "vision dance" in the forest á la Footloose, it's funny in its own right but totally not necessary to the larger story.
Like Napoleon Dynamite, there's a weird vibe about Hot Rod that puts it in the present day but there's enough nostalgic nods that you might think you were stuck in some backwards 80s time capsule. There's pop culture references galore ranging from the obvious Evel Knievel garb to the almost-retro soundtrack that cause a little bit of a rift in the time continuum.
Like most any comedy, there are times when Hot Rod loses some momentum and the jokes become painfully lame. However, with little in the way of expectations and just enough of a story, I was able to accept it for the fluff that it was. That said, if the trend continues where small-town comedies rip on Napoleon Dynamite, the shtick is going to become really lame really fast. But as a one-off, Hot Rod goes through the motions and does its thing.
Hot Rod DVD Review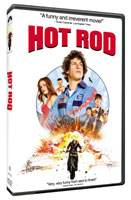 Hot Rod comes to DVD with an enhanced widescreen picture that does the job. The same can be said for the 5.1 Surround audio. The disc also has 5.1 tracks in dubbed Spanish and French along with English, French and Spanish subtitles.
The extras are led by a commentary track with director Akiva Schaffer, and actors Andy Samberg and Jorma Taccone. As one might expect, they bring a randomness and humor that keeps it a lot more entertaining than most commentaries, although you might not learn much about the film. "Ancestors Protect Me: Behind the Scenes of Hot Rod" is a short featurette that really doesn't serve much of a purpose other than to show everyone seemed to have fun making the movie. There's 15 deleted and extended scenes totalling a little more than 15 minutes as well as a four-minute outtake reel. The DVD also includes full cuts of Kevin's video tribute to Rod, a two-minute 'making of' look at the hilarious punch dance scene, a couple minutes of the orchestra working on the musical score, the film's theatrical trailer and previews for Drillbit Taylor and Stardust.
Hot Rod Gallery
Trailer