Roald Dahl was a staple of my childhood. I spent many evenings reading his works. He's one of the few authors that I read their books multiple times. His ability to place the absurd seem real captured my imagination. He told fairy tales children of the modern world could connect to and dream about. Henry Selick's adaptation of one of Dahl's most beloved stories, James and the Giant Peach captures the author's spirit, creating a film with not only whimsical creatures but very real emotions.
James and the Giant Peach tells a simple story. Following the tragic death of his parents, the titular boy lives a life of sorrow with his mean and unmarried aunts. Upon spilling some magical crocodile tongues, James' garden sprouts an enormous peach that the boy uses to escape from his aunts' clutches. Joining James on his journey across the Atlantic is a group of over-sized talking bugs and insects who like to sing, dance and be fashionable. Many obstacles come before them, but the journey to America is the heart of the fantastical story.
The story is filmed largely through stop-motion animation. The look is very distinct, giving James' guests a creepy yet memorable feel. It's a lot like Selick's classic The Nightmare Before Christmas only not quite so dark and not nearly as many characters. That's not to say the film isn't without edge. It has a somewhat macabre feel, particularly when Selick looks at the nightmarish aunts. Not only does this lend to a signature feel from the director, but it also works in not pandering the film to just younger viewers. James and the Giant Peach works for all ages except maybe the very young who might be freaked out.
What I appreciate most about this film, and Selick's other works, is the level of imagination he brings. The source material was already filled with fantasy, but the animation takes it to another level. Selick compliments the clay stop motion with other animated forms including a bizarre dream sequence involving paper cutouts. There's also some live action sequences to show life outside of the peach. Fantasy and reality are separated here much like the use of black and white and color separate Kansas from Oz in the classic The Wizard of Oz.
My biggest complaint with James and the Giant Peach were the handful of musical numbers. None were particularly catchy or memorable. Instead they felt like they were there simply to appease the idea that songs and animated features go together.
James and the Giant Peach is a fantastic adaptation that hits on several levels, both technically and emotionally. It's unfortunate that Selick makes so few films because when he does he creates magnificent worlds that prove there's more to animation than computers.
James and the Giant Peach Blu-ray Review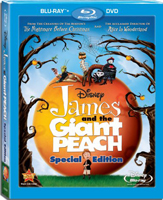 James and the Giant Peach debuts on Blu-ray as a Combo Pack that includes a DVD as well. The film is shown in 1080p high definition. I'm not sure if it stems from the master or not, but the picture did seem a little off. At many points, particularly during the live action sequences, it seems to be out of focus. Audio is in English 5.1 DTS-HD Master Audio with additional tracks in 5.1 Dolby Digital French and Spanish. The Blu-ray includes the game "Spike the Aunts." The DVD has a short behind-the-scenes featurette, an image gallery, theatrical trailer and music video for Randy Newman's "Good News."
James and the Giant Peach Gallery
Trailer