Sometimes simple can make for something perfectly enjoyable. Or, in the case of Hayao Miyazaki, is he just so good at what he does that he and his team make it all seem so easy? Either way, Kiki's Delivery Service might not be the Japanese animator's deepest work, but it's still a lot of fun and an excellent alternative to much of the frenetic, princess-driven fare that seems to dominate the genre. Like all of Miyazaki's films, Kiki's Delivery Service presents flawed but extremely likeable and innocent characters existing in a world where the fantastic is almost taken for granted. It simply is.
As part of the process of blossoming into an adult witch, 13-year-old Kiki must head out into a foreign town and help out. With her cat, her broom and little else, Kiki finds herself helping out at a bakery run by a pregnant lady and her quiet husband. By accident, she becomes a delivery girl with a unique style. In turn, she meets the town's varied residents and finds herself quickly a part of their community.
Kiki's Delivery Service is a coming-of-age story that focuses more on its character and environment than it does plot. And that's fine because it's filled with interesting folks. It starts with Kiki and her cat Jiji, the source of much of the film's comic relief. The pair are both likeable and easy to connect with. The supporting cast expands into Kiki's customers and the people she encounters throughout the town. All are different in their own ways, but still very much human.
Like Miyazaki's other films, there's lots of magic and fantastical elements to Kiki's Delivery Service, but it's still quite mellow. Miyazaki seems more interested in making something audiences can meditate on and let blossom rather than frenetically knocking everyone on the head with boisterous action sequences and loud sounds. That doesn't mean that Kiki's Delivery Service is boring. It just presents action in a more subdued manner.
Kiki's Delivery Service is another example of Miyazaki's greatness. In this world of computer-generated animation, he remains an ambassador for both the art form and the power of film in general.
Kiki's Delivery Service DVD Review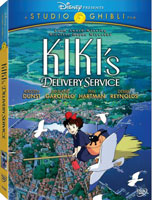 The latest DVD spin of Kiki's Delivery Service looks great in its widescreen picture (1.85:1 aspect ratio). While the dubbed English soundtrack got a remastered Dolby Digital kick, the original Japanese track (as well as the French and Spanish tracks) got no such love. English and French subtitles are also offered.
The first disc's lone bonus feature is an introduction from John Lasseter, Chief Creative Officer of Pixar. The second disc kicks off with the original Japanese storyboards. A slew of featurettes and additional features that explore not only this film, but Studio Ghibli as a whole are organized under the banner "The World of Ghibli." Features include featurettes on various aspects of production, promotional clips and trailers.
Kiki's Delivery Service Gallery
Trailer