It'd be easy to comment on how Lindsay Lohan's and her career have gone from the A-list to struggling star. With the release of Labor Pains, she's officially on the direct-to-DVD list. That in itself isn't a bad thing as an increasing number of films are going this route but the movie really is that bad and no distribution method could have saved it. And that's too bad because there was some solid potential for the film's premise. It just truly felt like all those involved in the production of Labor Pains were there to pass time rather than make something great or just plain entertaining.
Lohan plays Thea, an expendable and not dependable part of a publishing house. When she's about to be fired by her obnoxious boss Jerry (Chris Parnell), Thea blurts out these powerful words, "I'm pregnant." The problem is, she's not and all of a sudden the problem for her is how she's going to keep the charade up. Like any episode of Three's Company, the longer the misunderstanding goes on, the bigger the lie gets. But while Thea struggles to keep up the lie in a physical sense, her career begins to blossom as she all of a sudden becomes the voice of a parenting line her publishing company is planning.
Labor Pains shows signs of being a satire on being preggers but fails to actually be one. There's also room for some office comedy. Again, pretty limited stuff. Okay, so how about a romantic comedy? Again, potential but, again, not so much. Labor Pains plays it so straight that it's truly hard to gauge what it's trying to say, even if it's not trying to say anything at all. There's too much going on in the story to make me think the original concept was to make a mindless comedy but the final film shows a frustrating follow through in almost every respect. As a result, Labor Pains is a painful bore.
By bringing up things and not going through with them, it leaves much in the air. For example, Thea starts the film with a boyfriend and all of a sudden she breaks it off even though he's supportive of her and doesn't make any colossal screw-ups. An on-the-fly script change perhaps to allow for more of a romantic comedy spin, perhaps? And there's Jerry, another important part of the early script who disappears for much of the second and third acts before dropping by at the end.  So much time is spent early on establishing these two as important parts of Thea yet they're ultimately wasted in the final product. One, at least, serves as a plot point. But this could have been done in a much faster and streamlined fashion, which would have opened up a little room to look at at least one of the many unexplored parts that are raised.
Labor Pains feels like it suffers from a lack of passion. There's nothing that stands out in any way from the script to the directing to the acting. I can't speak for those involved with it but I got a very real sense of apathy from the final product just by watching it. And for me, it's really hard to get behind something when you don't think those on the front lines are behind it either.
Labor Pains Blu-ray Review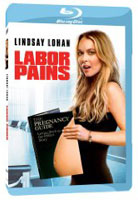 Just like the movie, there's really not a whole lot to the Labor Pains Blu-ray release. The film is shown in a solid widescreen (1/85:1 aspect ratio) picture and a lacklustre 5.1 Digital Surround soundtrack that fails to wow. Subtitles are in English and Spanish. Extra features are limited to the standard making-of featurette, production gallery and cast interviews.
Labor Pains Gallery
Trailer