Whether it's monsters under the bed, hairy tarantulas scurrying across the floor, rickety airplanes falling from the sky, icky germs on every surface of the or tan-coloured spatulas, there's always something to be scared of. Originally released in the realization of one of Western society's greatest fears, the terrorist attacks on the World Trade Center, Monsters, Inc. provided some calm and cause to be happy during an extremely difficult and fear-filled time. Several years later, the Pixar film still offers the similar comforts of curling up in a comfy chair with a fine cup of tea and laughing along with the Sunday comics while the kids play calmly in the background – at least on a Sunday when the funny pages are actually funny.
As it turns out, the monsters in the closet actually are real. They don't mean any real harm but simply are looking for a way to power their world. Monsters, Inc. refers to the company that collects the screams of children to act as the power grid for Monstropolis. James P. Sullivan, Sulley for short (voiced by John Goodman), is the top scarer in all the land. A sure-fire hall of famer if there were such a thing, he is the resident expert in extracting screams. Sulley works hand-in-hand with his partner and best friend Mike (Billy Crystal) to bring happiness and electricity to all the odd and freaky creatures that live in Monstropolis.
But the monsters have a secret. They're actually scared of people. They see us as being filled with all sorts of germs and harbingers of death and suffering should we find a way into their world. It's this world that helps make Monsters, Inc. such an enjoyable film. In every frame there's so much to see and explore. The creatures are the stars in both their design and how they interact with one another. Although they look very different from humans, their behaviour is like holding up a mirror to society.
The plot has Mike and Sulley trying to thwart Randall (Steve Buscemi), a serpentine monster who is the closest thing Sulley has to a rival in the total scares department. Randall is part of a larger scheme that threatens humanity should it come to pass. Things are complicated when a small girl dubbed Boo (Mary Gibbs) finds her way into Monstropolis. A whole lot of heartwarming slapstick ensues as Mike and Sulley try to hide Boo and get her back home.
Monsters, Inc. is a celebration of unforgettable characters and a world unlike any other. It also works on another level, providing commentary on the world that is just as relevant now as it was when it was released in 2001, even if the world isn't quite on edge like it was then. Monsters, Inc. provides cause to laugh and be happy rather than go through life on the defensive because of fear. It's a universal and timeless truth that is explored with great thought humour that comes together as a classic animated tale.
Monsters Inc. Blu-ray Review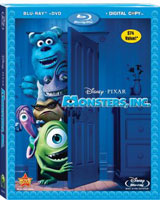 In case you're wondering about the difference between DVD and Blu-ray and whether or not it's worth it, look no further than the opening couple of scenes in Monsters, Inc. Although it's never looked bad, the detail in Mike's fur on the Blu-ray is phenomenal. The film is presented in 1080p high definition with English 5.1 DTS-HD Master Audio. Dubbed tracks are in French and Spanish 5.1 Dolby Digital. Subtitles are also offered in all three of the above languages.
Disney's Monsters, Inc. Blu-ray is another combo pack that includes a total of four discs. There's the movie, a second disc of bonus features, a DVD and a Digital Copy for computers and portable media players. Director Pete Docter introduces the main disc with an overview of what to expect. He also provides a solid commentary track alongside co-director Pete Unkrich, Andrew Stanton and John Lasseter.
Extras on the first disc are kicked off by a more than 20-minute filmmakers roundtable in which Docter, Unkrich, producer Darla K. Anderson and story advisor Bob Peterson enjoy a casual conversation about the evolution of the film. 'Ride and Go Seek' isn't just about the making of the Monsters, Inc. inspired attraction at Tokyo Disneyland, but rather a look at the culture of the theme park. The first disc concludes with the Pixar animated shorts For the Birds and Mike's New Car.
The second disc leads off with the trivia game 'Roz's 100 Door Challenge," in which participants find their place on the Monsters, Inc. corporate hierarchy. The disc also contains a seemingly exhaustive list of short featurettes. Topics covered include story development, designing Monstropolis, the monsters, set design, casting, character evolution, sound design and several steps in the computer animation process. Lasseter provides a tour of the Pixar studios that is funny and awe inspiring for anyone who wants to work for them. Other features that show the transparency of the filmmakers include Peterson pitching a scene, the movie's original pitch reel and the animation steps of Boo's bedtime scene. It's shown as both a story reel and in its finished color, as well as a split-screen comparison of the two. Additional extras include a large gallery of characters, color scripts, concept art and posters, trailers, TV spots, TV vignettes, location flyarounds, coverage of the film's premiere, John Goodman and Billy Crystal singing "If I Didn't Have You," a montage-style music video of the same song, welcome and orientation videos from Monsters, Inc., an animated history of the monster world by Bud Luckey, and a faux interview with Mike and Sulley about what it's like to work at Monsters, Inc. Finally, there's a very strange pair of short spots from a Japanese show that integrated Mike and Sulley into a couple of games, demonstrating how film can cross cultures.
Monsters Inc. Gallery
Trailer