The enjoyment that comes with doing a puzzle is in the time that it takes. You're sitting there sorting through the piece figuring out the way they all fit into one another. Call me a little boring, but I get a small thrill with each piece that I find a partner for. Similarly, that was the root of the excitement in National Treasure. A puzzle was presented to audiences that was confined to a couple of hours and offered a lot of possibilities and twists, not to mention action and just enough snarky comedy.
If you've ever given a puzzle an encore you know that they're not nearly as fun the second time around. You know what you're looking for, patterns emerge a lot faster and there's probably a couple of pieces stuck together from when it was taken apart the first time. The thrill is gone. It's almost like you feel like you're cheating a little. The shortcuts are just too easy, even if they're unintentional.
National Treasure: Book of Secrets is like doing the puzzle a second time. It's familiar, it's redundant and it's rarely exciting.
After his family is implicated in the assassination of President Lincoln, modern-day Indiana Jones and full-time American patriot Benjamin Franklin Gates (Nicolas Cage) sets out to find the truth and track down the rumored missing pages from the diary of the notorious John Wilke's Booth. Along the way some want to help Gates, others want to stop him.
Sadly, rather than solving the mystery you're left with one double-cross after another and Book of Secrets ends up going every which way. Where the first film had a sense of freshness and adventure to it, this time around the tone seemed to be much more low key. There's definitely a lot more talking, which is especially strange seeing as how there's not the need to explain who the characters are because chances are that the majority of the viewers will have seen the original by now. Yet, there they are driving around, sitting around, pushing rocks around and chewing your ear off.
National Treasure mixed action with intrigue. That's what made it a hit. Watching it, it was hard not to get pulled into the adventure. Sure, it felt fluffy but at the same time it was fun. The adventure in Book of Secrets is limited to just a couple of scenes. Add to that the fact that the mystery isn't all that exciting and it adds up to one about the same level of adventure as rowing in a dingy on a calm lake that's two-feet deep.
Like a lot of sequels, Book of Secrets is in a lot of ways bigger than the original. Up front you've got the additions of Ed Harris and Helen Mirren to an already impressive cast. Their roles are somewhat bland, much like the rest of the cast outside of Gates and his sidekick Riley (Justin Bartha), but even their parts are predictable. The sets are at times bigger and the little action that there is does show that there can be some excitement still. If only they'd close their mouths for a bit and stop explaining everything.
Book of Secrets proves once again that no matter how satisfying a puzzle may be, it's best kept in the box and passed on rather than revisited for a second try.
National Treasure: Book of Secrets DVD Review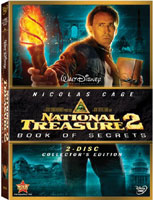 The two-disc Collector's Edition of National Treasure: Book of Secrets comes with a small but compact treasure chest of extras and features.
Beginning with the film itself, it's shown in a sharp enhanced widescreen format (2.35:1 aspect ratio) and shows no obvious signs of dirt, scuffing or scratches. Audio is in the expected 5.1 Dolby Digital Surround bringing out the best in the car chases and limited action scenes that are in the film. French and Spanish tracks are also included as well as English, French and Spanish subtitles.
The first disc includes only one bonus feature: a feature length commentary with director Jon Turteltaub and actor Jon Voight. Anecdotes and name-dropping dominate.
The real meat of this DVD is found on the second disc. Five deleted scenes are introduced by director Turteltaub. "Secrets of a Sequel" is a seven-minute look at the evolution of the National Treasure franchise and is comprised mainly of crew interview clips. "The Book of Secrets: On Location" explores the international scope of the iconic locales used in the film. Action fans will enjoy "Street Stunts: Creating the London Chase," a deconstruction of one of the film's more memorable scenes. "Underground Action" and "Evolution of a Golden City" looks at the final act's subterranean scenes and the gadgets needed to make them work. The historical aspects of the film are discussed in "Knights of the Golden Circle" and "Inside the Library of Congress." Finally, "Cover Story: Crafting the Presidents' Book" reveals the making of one of the movie's plot devices. Also included on the second disc are a collection of bloopers and outtakes.
National Treasure: Book of Secrets Gallery
Trailer