For the past few years Joel and Ethan Coen have strayed from their roots of taking classic mythology and giving it an updated, and often dark, revisionist feel. Instead of Fargo or Blood Simple, we've been getting The Ladykillers and Intolerable Cruelty. While I love to see new things from old favourites, the Coens' last couple of films have just plain sucked in a lot of ways. Thank goodness that experiment in appeasing the commercial suit types is over and the quirky brothers are back to form with No Country for Old Men, a dark and violent exploration of nature's hunt and the relevance of time.
While out hunting in the Texas desert, Llewelyn Moss (Josh Brolin) happens across a massacre and a whole lot of money. Knowing that it was all the result of a drug deal gone wrong, Llewelyn grabs the money. He wants his wife, Carla Jean (Kelly Macdonald), to retire from her job at Walmart. But when you take a couple million dollars, someone's invariably going to want to get it back.
That man is the cold and calculating Anton Chigurh (Javier Bardem), a man with more hair on top of his head than a back story. Chigurh sets out to find the money, and Llewelyn for the inconvenience. Chigurh's trail is a bloody one with an ever-growing number of bodies dotting the way.
In nature, the hunt isn't based on emotion. Rather it's a mix of instinct, experience and luck. The hunter is after his prey. The hunted does what he or she needs to in order to survive. That is if he even knows they're being hunted. There's no debating, rationalization or sitting down and talking about it. Once the hunt has begun it can only end with one of two options: the hunter succeeds or fails. This represents the core of No Country. Llewlyn is the hunted, Chigurh the hunter. Llewlyn ends up way over his head when he becomes involved. In doing so he's forced into survival mode, not just to keep the money but to stay alive. To survive he has to adapt. And therein lies a good chunk of the film's beauty. Over the course of the film Llewlyn transforms from this seemingly down-on-his-luck do-gooder to a representation of a new form of good – one that has to choose between morals and life itself. His journey combines both instinct and luck to make up for his lack of experience.
This pursuit also acts as a backdrop for a third character's story, that of the soon-to-be retired sheriff Ed Tom Bell (Tommy Lee Jones). Bell is a relic of history. He comes from a long line of sheriffs yet there is no indication that he's got a son who's going to take over for him. His family's history will end when he steps down. As Bell tracks Chigurh, he comes to realize that the world around him has changed. In acknowledging this he admits that he's not a part of the current world. This raises questions as to his own being and what he's supposed to do given his fondness for "the way things used to be." The world that Bell once knew is long gone, instead replaced with a lawless stampede. Spinning the Western genre on its head, its as though Bell is ready to ride off into the sunset, not as a hero but rather a limping dog heading out in the desert to die in solitude and let evolution do its thing.
No Country for Old Men is both emotionless and emotional. The story of Chigurh and Llewlyn is told cold with the action filling in most of the blanks. On the flip side, there's Bell's narration and investigation that suggests a bleak future, one that he's sad to see. But he understands he's lost his place in the world and has to move on whether he wants to or not.
No Country for Old Men Blu-ray Review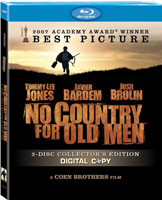 The two-disc Collector's Edition Blu-ray of No Country for Old Men offers both a brilliant take on the film as well as an equally great exploration of the world surrounding the Best Picture winner. The movie looks better than the scratched version I saw on the big screen with beautiful colors and sharp details. The presentation is in 1080p High Definition widescreen (2.35:1 aspect ratio). There's two audio tracks: English 5. DTS-HD and Spanish 5.1 Dolby Digital. Subtitles can be viewed in these two languages as well as French.
There's a whole mess of extra features that go into much more depth than the skimpy initial release of the film last year. "The Making of No Country for Old Men" collects interviews with many cast and crew to go into great depth about the background of the movie. It runs nearly 25 minutes. "Working With the Coens" is a tribute to the enigmatic filmmakers. Tommy Lee Jones' character, Sheriff Ed Tom Bell, is explored in "Diary of a Country Sheriff." Star Josh Brolin offers up his "home movies" that he shot during filming and presents them as "Josh Brolin's Unauthorized Behind-the-Scenes." Finally, a Press Timeline provides snippets from several interviews and press stops organized with a handy graphic organizer.
No Country for Old Men DVD Review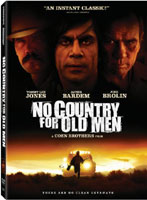 Considering the pedigree and accolades of No Country for Old Men, you can't help but sense that this DVD is just a preview for a more deluxe edition that will come out sometime in the future. The film receives an excellent widescreen transfer (2.35:1 aspect ratio) with Dolby 5.1 Surround Audio. Subtitles are in English, Spanish and French.
The extras are led by a 25-minute "making-of" feautrette that tracks the film from its origins as a novel to shooting to design to guns. "Working With the Coens" is a brief look at the genius known as Joel and Ethan Coen. "Diary of a Country Sheriff" is an abbreviated look at the lawless core of the film. Previews include National Treasure: Book of Secrets, Gone Baby Gone and Dan in Real Life.
No Country for Old Men Gallery
Trailer