The beauty of Charles Schultz's Peanuts is its mix of simplicity and complexity. The drawings aren't exactly detailed. The situations that Charlie Brown and company find themselves in are everyday and mundane. But that's not to undermine Schultz in the least. In his comic strips he was able to get to the truth in a situation in just a few short panels. And although the many television specials offered an expanded canvas, Peanuts is still able to capture much of the same sense of truth. Peanuts: 1970's Collection Vol. 2 offers six specials that cover adolescent milestones, trends of the day and obscure occasions. Although some are better than others, all offer a timeless look at the innocence of life and its many emotions.
The set kicks off with Be My Valentine, Charlie Brown, a favorite of mine among the second tier Peanuts specials behind the original Christmas special and It's the Great Pumpkin, Charlie Brown. Watching Charlie Brown agonize over the girl with the red hair is about a universal a pain for boys and men as I can think of. The happy pain continues later with It's Your First Kiss, Charlie Brown, which offers the ever unlucky hero with a rare break.
You're a Good Sport is average when it comes to Peanuts specials, which is still better than most. I found this to be notable for a couple of reasons: seeing the emerging trend of motocross hitting the mainstream as a focal point of the plot and a couple of particularly hilarious moments with Snoopy.
Growing up I learned a lot about holidays through the work of Schultz. I'd never have heard of Arbor Day if it weren't for the special made about it. While it's a stretch to get a whole program about it, It's Arbor Day, Charlie Brown is perhaps important in the Peanuts lore for really pushing the development of then-newer characters Peppermint Patty and Marcie by giving them more prominent roles.
Rounding out the set are What a Nightmare, Charlie Brown, which offers Snoopy a starring role, and You're the Greatest, Charlie Brown, which follows Charlie Brown through the decathlon at a track meet. This pair was by far my least favorite among what's included. What a Nightmare catches Snoopy out of character and in a dreamscape where anything is plausible, no matter how out of sorts. You're the Greatest is essentially Charlie Brown going from event to event. And with ten of them, it gets tiresome rather quickly.
In baseball, you'd be a god if you went four-for-six every game. One could view the Peanuts:1970s Collection Vol. 2 in the same light. While a couple of the programs are somewhat weak, the rest are classic fun.
Peanuts: 1970s Collection Vol. 2 DVD Review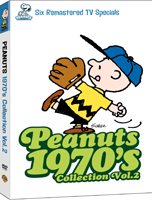 Peanuts:1970s Collection Vol. 2 is a two-disc set that offers six specials with a crisp and colorful re-mastered picture. Each are shown in their original full screen format with Dolby Digital mono audio in both English and Spanish. Subtitles are also offered in English, French and Spanish. The only bonus feature is an 18-minute retrospective on Peanuts during the 70s decade. It's largely a tribute to Schultz and his cartooning but it also briefly talks about how the master cartoonist's work influenced the television specials.
Peanuts: 1970s Collection Vol. 2 Gallery