One of my favourite movies of all-time is Mary Poppins. Although it was the first film to mix live action and animation, it did give the musical a magical appeal to the tale. Since then Disney's tried the approach again but with not nearly the success it found with Julie Andrews and Dick Van Dyke. The secret: cartoons and people don't make a movie automatically great. Or, in the case of Don Chaffey's Pete's Dragon, even good. Boring, annoying and not funny, Pete's Dragon is one of the dullest films from Disney that I've ever seen.
Pete (Sean Marshall) is a young orphan drifter on the run from a family of hillbilly farmers who have bought him to be their slave. Pete has a dragon. He's dopey, makes funny noises and his name is Elliott. He can also make himself invisible, which is a very clever trick in movies because it cuts costs immensely and comes with about three built-in gags you can play over and over.
I know. You're thinking dragons aren't real. Everyone thinks that, even in the movie. When Pete strolls into the fishing village of Passamaquoddy, strange things start happening. When Pete tries to explain that his giant, invisible dragon is behind it, they look at the boy like he just told them he had a giant rabbit named Harvey sitting next to him. Crazy looks aside, Pete is befriended by Lampie (Mickey Rooney), a drunk lighthouse keeper and his daughter, Nora (Helen Reddy). More chaos ensues as a traveling swindler named Doc (Jim Dale) comes to town and, convinced the dragon is real, wants to capture him.
With such a huge cast of characters, it's hard to understand how the film has such little plot. The first half is primarily character introductions and Elliott blabbering. It might be cute at first but it gets old really fast without any substance to go with it. Worse still is the fact that even with the focus on the characters over plot is that, even after more than two hours, there's still little characterization. Instead, everyone seems to be a caricature. There were times when I wondered who was more of a cartoon character, Elliott the dragon or Rooney's cross-eyed, tongue-tied spin as a drunk.
Other than a couple of solid musical numbers, there's nothing to get excited about in Pete's Dragon. It's way too long, tedious and even the live action/animation crossover gimmick doesn't fuel the imagination. Instead of Pete's Dragon, you might want to opt for the unofficial alien remake about a boy and is strange pet that was made a few years later, E.T. The Extra Terrestrial.
Pete's Dragon DVD Review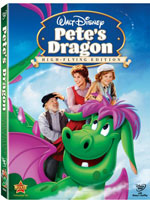 Disney's High-Flying Edition release of Pete's Dragon, the film is given a host of bonus features to go alongside the film. The movie is shown in a fairly clean widescreen (1.66:1 aspect ratio) transfer. There's some signs of scratches and age, but overall the picture is bright and crisp. Audio is available only in Dolby Digital 5.1 Surround English. Subtitles are also only available in English.
The bonus features are headlined by the featurette "Brazzle Dazzle Effects: Behind Disney's Movie Magic." Narrated by a now adult Sean Marshall who played Pete, the 25-minute featurette goes into great detail about not only the film's effects but also their history within the Disney company. At times the writing feels a little ra-ra towards the company but nonetheless its historical look at special effects is still very interesting. Rough work for the film plays a prominent role in the extras. There's both a deleted storyboard sequence of a scene that was planned but never completed as told through demo audio and storyboards, as well as an original song concept for "Boo Bop Bopbop Bop (I Love You, Too)," which is complimented with concept sketches. Additional demo recording are also included for "Brazzle Dazzle Day," "Every Little Piece" and "The Greatest Star of All," a song that was deleted after the character for which it was about met the same cutting room fate. Intended for promotional distribution, there's alternate versions for the songs "It's Not Easy," "Brazzle Dazzle Day," "Candle on the Water" and "There's Room for Everyone." More Disney history comes from excerpts from "The Disney Family Album" with a profile on animator Ken Anderson and the short "The Plausible Impossible" in which Walt Disney describes how his company achieves things that seem unfathomable.
Additional features include a set-top game, an art gallery, production notes, international and theatrical trailers and the thematically appropriate Donald Duck cartoon Lighthouse Keeping.
Pete's Dragon Gallery
Trailer