"When you wish upon a star, it makes no difference who you are." With that pivotal line from the most iconic song in the film, Pinocchio establishes itself as a tale for all. Seven decades after its release, Pinocchio continues to shine bright as one of the most magical and delightful films in the Disney animated library.
Based on the novel by Carlo Collodi, Pinocchio tells the story of a wooden puppet who is brought to life and explores the world around him. Pinocchio is carved by Geppetto, a kind old wood carver who revels in bringing smiles to faces through his toys, clocks and other works. But, for reasons unexplained, he's alone save for his cat and his goldfish. Pinocchio gives him reason to be the father he seems to have always wanted to be.
As Pinocchio goes through the try-outs of being a boy he encounters all sorts of amazing and enticing offers: to perform on stage, to skip school, to enter a hedonistic paradise. All of these choices are met with consequences and new choices. That is, after all, a big part of what growing up and being human is. To help Pinocchio is Jiminy Cricket, a streetwise bug who is appointed his official conscience to help him choose right from wrong.
Pinocchio is a film for dreamers. It seamlessly creates a world where humans, wooden boys, animals and fairies all interact with one another. And none of it seems weird. And if a story can achieve making a puppet come to life seem reasonable, then really anything can happen.
The Disney team, directed by Hamilton Luske and Ben Sharpsteen, does an amazing job with the animated medium. In just the company's second venture into cartoon features, there's a playful and experimental feel to it, like one of exploration. For example, as Pinocchio is first experiencing life he looks into a fishbowl and sees his distorted reflection and moves around for a bit. It seems pretty basic now, but I got the feeling that the shot was, at least in part, seeing where the frontier was. The intricate detailing of the characters and the backgrounds are all still impressive today as well.
But the appeal of Pinocchio isn't all the snazzy glamor. Although it was forging a new path for animated features, the focus is on the characters and the world they exist in. Geppetto's workshop is a place of wonders where every creation has the feel of something mulled over, meticulously planned and carved with an eye for perfection. This helps in conveying the genuinely magical side of the film that has crickets talking, puppets coming to life and naughty boys growing tails. This is where the heart of the film resides and enables everyone to believe and have hope like the song suggests.
Pinocchio Blu-ray Review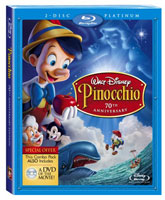 Is the aim of film restoration and presentation to make a movie look like it did when it was first released or is it to make a movie look as good as technology will allow? This is the dilemma with Disney's unmistakably gorgeous Platinum Edition release of Pinocchio on Blu-ray. Maybe a little too gorgeous. Maybe.
The film maintains the original full screen picture (1.33:1 aspect ratio) in 1080p high definition. The colors are flawless and bright. It's to the point where it likely exceeds the standards technology allowed back in 1940. So while it looks nothing short of fabulous from a technical standpoint, Pinocchio also loses some of its personality. Not a lot, but a little. A good use of the screen is watching the film with Disney View. The film maintains its original measurements but the sides of the screen are decorated with paintings from Toby Bluth. It makes for a great use of the screen and is not at all distracting.
The primary audio track is a restored English 7.1 DTS-HD track. There's also 2.0 tracks in English, French and Spanish as well as subtitles in all three languages. Leonard Maltin, Disney animator and director Eric Goldberg and film historian and author J.B. Kaufman provide an all-new commentary track that mixes a conversational view of history. You can either listen to it while you watch the film or you can watch them with Cine-Explore, a great feature that acts as a picture-in-picture experience.
It's also worth noting that the Blu-ray release continues Disney's "combo pack" trend in which a DVD with the film is included on a third disc.
Special features on the feature film disc include a chapter jump to specific songs, with or without the lyrics subtitled on the screen. There's also a pop-up trivia option that plays throughout the film entitled "Pinocchio's Matter of Facts." Finally, there's a set trivia game.
The second disc contains two more games. The first is a puzzle activity that rewards participants with short film clips when the puzzle is complete. The second is a collection of carnival games themed after the memorable Pleasure Island sequence. Additional content on disc two is headlined by a nearly hour-long featurette on the making of the film, from its earliest inception through the many steps in filming it. Three deleted scenes including an alternate ending are told through storyboard art. There's also a short introduction that further heightens the significance of them. "Honest John," a deleted song is also included, albeit through audio only. Background pieces on the disc cover varied topics such as a short bit on the "sweatbox," a small screening room that enabled groups to see the film through storyboards as a work in progress to make adjustments on the go. There's also live action reference footage used to help animators, a collection of trailers, an art gallery with some never-before-seen artwork and a brief history of toymakers.
I continue to be impressed with Disney's eye for detail and purpose with Blu-ray. Not only are the films presented in a thoughtful manner, but all of the bonus features serve a purpose to genuinely enhance the viewing experience instead of simply being added-value content.
Pinocchio Gallery
Trailer