Over the years there have been plenty of courtroom dramas that tantalize and titillate. Heck, at any given hour it seems as though I can get at least two versions of Law & Order on TV. The courtroom is the place where guilt or innocence is ultimately determined for the record but it's in the drama leading up to the verdict that makes a crime drama successful. Gregory Hoblit's Primal Fear captures the essence of a juicy case and is helped greatly by excellent performances from both of the film's leads, as well as the rounded supporting cast.
Gere stars as all-star defense attorney Martin Vail. He's primed for a pro bono case and the plight of Aaron (Norton), a scarred altar boy accused of the nasty murder of a highly connected Catholic archbishop, falls into his lap. Vail goes about his work trying to prove Aaron's innocence and as he does, he uncovers some dirty secrets that could shatter many lives. Yet there's always the question of innocence floating above it all. And to what extent should Aaron be held responsible if he were in fact guilty.
One of the keys to a successful courtroom drama is that it makes the viewer an unofficial member of the jury. By seeing things outside the courtroom, the viewer is privy to many secrets, yet through editing and basic storytelling, the suspense remains as to what the real story is. And that's the juror's ultimate responsibility – to get the whole story. In a sense, Primal Fear is interactive in that it gets the viewer involved with the trial process to a certain extent. In watching it you take a vested interest in every conversation, every line, every facial tick and piece of body language Aaron gives off in order to figure out if he's a murderer or not.
That's a lot of pressure for an actor, especially when you're young and relatively unproven as Norton was at the time of Primal Fear's original release. Throughout the film he maintains a tremendous intensity and gives Aaron a very wide range of angles and emotions. This role was a major breakthrough for Norton and since then he's gone on to become one of the most dependable actors in Hollywood.
It's not just Norton that thrive, but the entire cast. My resistance to Gere is slowly breaking down as I catch up on some of his work. Pretty soon I might even be able to admit to being a fan. I'll tip my proverbial hat to him, although the slimy yet charming power player is hardly anything new for him. The supporting cast is deep and also stands up to create an excellent ensemble.
Primal Fear is a tense film that brings together a lot of the elements that make for a great crime drama. It's filled with guesswork and numerous surprises, but none of which aren't set up in advance.
Primal Fear Blu-ray Review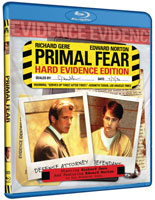 The "Hard Evidence Edition" Blu-ray release for Primal Fear presents a package with some bonus features but not a lot. The film is shown in 1080p high definition and the results are strong. Audio is available in English 5.1 Dolby TrueHD, and French and Spanish 5.1 Dolby Digital. All three languages also have subtitles, as does Portuguese.
A loaded commentary track features director Gregory Hoblit, writer Ann Biderman producer Gary Lucchesi, executive producer Hawk Koch and casting director Deborah Aquila. As one might expect from their titles, it's a largely production-based discussion. The disc also has three featurettes, all shown in standard definition. "Primal Fear: The Final Verdict" discusses the film's turning point in great detail, breaking it down and its impact through several cast and crew interviews. Star Edward Norton, is put on a deserving pedestal for his performance in "Primal Fear: Star Witness." Finally, "The Psychology of Guilt" puts a legal spin on the implications of the trial shown in the film. The disc also contains the movie's theatrical trailer.
Primal Fear Gallery
Trailer