The love letter: the pinnacle in the art of wooing. Often, the writer cringes in retrospect when the receiver dusts them off and brings them out for a dose of reminiscing. The reason for cringing is simple: the mind flows freely when writing a love letter. The end result is a mix of cheese and mush that although honest, is embarrassing nonetheless. Richard LaGravense's P.S. I Love You has plenty of sappy love-letter moments, but it's also a very touching and real-feeling look at the grieving process. Now if only all love letters evoked such a real sense of the world rather than some fogged up version blurred by doe eyes.
Based on the best-selling novel by Ceceila Ahern, P.S. I Love You follows Holly Kennedy (Hilary Swank) as she comes to grips with entering middle-aged life without her husband at her side. The victim of a sudden brain tumor, her partner Gerry (Gerard Butler) wrote Holly a series of letters to help her get through his passing and experience life in all its adventurous glory. Through the letters, Holly gets closer to her friends and family, embarks on adventures and discovers that love can be eternal, even if the object of one's affection isn't there to share it.
The film begins with Gerry very much alive. He and Holly are embroiled in a loving argument much like many married couples have been through. Kids or no kids? Unhappy at the old job or try for another? Live modestly and save for a new home or stick with the cluttered old one? Voices are raised, doors are slammed but at the end of the day the deal is sealed with a kiss. This scene shows that Holly and Gerry were very much in love, despite their obvious differences. It sets the film in a believable world and brings you closer to both characters. So when the next scene begins and it's obvious that Gerry is in the decked out urn, you immediately understand the new level of Holly's emotional turmoil.
The progression in the film comes from Holly's journey that is initiated by Gerry's letters he wrote for her shortly before his passing. Taken individually and these scenes are somewhat interchangeable. But when you put them all together, the touching emotional core of the film comes through.
The film's structure is straightforward yet different. Holly's memories lead seamlessly into several flashbacks where all of a sudden she's back with Gerry. These build their courtship and subsequent marriage. In reflecting, Holly is able to realize where she has come from and see all that she learned from her husband, even if they didn't always see things the same way.
It's refreshing to see Swank in a more fragile role than we normally see her in. She is a tremendous talent who is frequently placed in more physical roles. Swank does an excellent job with all of the various angles to Holly's character given the large number of highs and lows that the film covers. She is joined by a strong ensemble cast that also includes Kathy Bates, Lisa Kudrow, Gina Gershon and Harry Connick, Jr.
P.S. I Love You takes a non-traditional route by encouraging tissue use at the start of the film. Rather than let up, it builds a sense of genuine loss and in between chuckles you'll likely find yourself dabbing your damp eyes for the duration of the movie.
P.S. I Love You DVD Review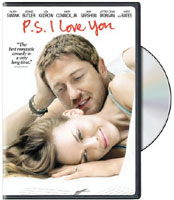 Warner Brothers includes both the widescreen and full screen versions of the film on this double-sided DVD. The picture is sharp and the picture is vivid. This is particularly noticeable when the scene goes overseas to the lush fields of Ireland. Dolby Digital 5.1 Surround audio and subtitles are available in English, French and Spanish.
The most creative of the special features is "The Name of the Game is Snaps," a tutorial for the game played in the film done in a faux-50s style. Other extras on the DVD include a featurette/interview with author Ceceila Ahern, the music video for "Same Mistake" by James Blunt and 13 minutes worth of additional footage.
P.S. I Love You Gallery
Trailer