Well, that was a letdown.
Historically, not being a big James Bond fan, I was genuinely impressed with Casino Royale. Finally, Bond was updated, believable and more than just cool. But what really made Casino Royale standout for me was the fact that there was some emotion behind it all, a big part of what I've always thought Bond has been lacking.
And with Quantum of Solace it's more or less back to the old stoic Bond who shoots, kicks and schmoozes his way around the world and into evil lairs. He's a Bond without a heart, or at least a heart that's buried so deep it's really hard to care for him. So while Marc Forster does a fantastic job with the action – at least in how it looks – Quantum of Solace is still a major letdown from the thrills of Casino Royale.
Amazingly, this marks the first direct sequel in the Bond franchise. Sure, there have been recurring characters and the stories repeat certain elements but in the past they've always been separate stories. Pissed and more than a little saddened by the death of Vesper, Bond heads out in a fit of rage. This leads him to trying to stop a coup in Bolivia where the motive is water, which will soon be acknowledged as the world's most important resource. Tension is added as Bond and home base have trouble trusting one another as motives are unclear.
But really, this is a film that's all about the action. It's more gritty than sexy, dirty and not at all suave. It's almost as though the Bond franchise is targeting the Jason Bourne series and director Marc Forster is channeling Paul Greengrass and his frenetic camera. But whereas the Bourne films excel in the confusion and intensity of quick cuts and in-your-face camera techniques, the human side of Bond gets lost and a comic book character emerges.
Within the opening couple of scenes in Quantum of Solace, you've got two massive action scenes. They're choreographed to perfection. And it hurts things. Sure, they look great, but Bond has so many near-misses and coincidences that the sheer repetitiveness of such sequences start to make Transporter 2 look plausible. Bond ends up looking more like a comic book superhero than a humanized super-spy. He breaks the Laws of Physics, Chance and Murphy, all without much more than a scratch and a brief limp.
As an action movie, Quantum of Solace is solid, albeit nothing memorable. But this is James Bond. It's sold as a franchise brand that's meant to be cool. They nailed it with Casino Royale but then left it for not in the follow-up. Quantum of Solace strives to be current and hip but in doing so Bond lost much of his soul. I'm all for making the character relevant again but for that to happen there has to be heart, not just one ridiculous action sequence after another. While this approach might look cool, it's going to do little in instilling a renewed faith in the franchise.
Quantum of Solace DVD Review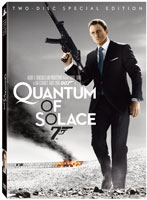 The two-disc Special Edition release of Quantum of Solace is a solid effort, although one has to wonder how long it will be before a more amped up version is released. For the most part, the widescreen picture (2.40:1 aspect ratio) is clear, although some of the outdoor establishing shots lose some of their detail through minor pixilation. Audio is available in both English 5.1 DTS and 5.1 Dolby Surround with dubbed 5.1 tracks in both French and Spanish. English and Spanish subtitles are also offered.
Besides the film, the first disc offers the music video for the title song "Another Way to Die" and a collection of theatrical and teaser trailers. The bulk on the extras come on the second disc. "Bond on Location" is a very well produced featurette that is essentially a making-of short documentary with particular attention being paid to the globe-trotting that went on to capture the film's look. "Start of Shooting" goes to the first days when the cameras started rolling. "On Location" shows some repetition from the first featurette, but is much more condensed. "Olga Kurylenko and the Boat Chase" is a very brief collection of clips and sound bites that look at the latest Bond girl's take on a major stunt scene. Director Marc Forster is the subject of his own featurette that talks about his goals, the pressure and his vision for Quantum of Solace. "The Music" explores the writing and performance of the soundtrack. Finally, "Crew Files" provides brief video biographies about several of those working behind the camera.
Quantum of Solace Gallery
Trailer