Can we be forced into feeling? That's what I was wondering throughout most of Alison Eastwood's melodrama Rails & Ties. Although with a solid premise and well acted, it feels so forced and determined to convey a certain emotion that its authenticity is lost. And when there's no sense of authenticity, there's no emotional attachment.
Tom Stark (Kevin Bacon) is a man who lives up to both of his names. He's a plain, soft-spoken man who has some definite issues with his wife. But being the soft-spoken man that he is, these issues appear to not have been dealt with or openly communicated. Now his wife Megan (Marcia Gay Harden) dying from cancer time is running out for the couple to come to grips with their issues.
The big problem is that everything fits together so easily and seamlessly. Needs and motives are fulfilled by the simple and willing occurrence of fate. Sure, there's bound to be a certain level of coincidence to ensure the plot keeps moving along, but there should also be elements of surprise and revelation. Rails & Ties gives you everything you expect.
With Megan's pending death, it is very obvious very quickly that both she and Tom are regretting not being parents. So what do they need? A child – or at least something to substitute their parental yearnings before it's too late. Not only will this provide personal fulfillment for both, it will also enable to revitalize their struggling marriage.
Davey Danner (Miles Heizer) just happens to be looking for a parent to follow. His mother, a former prostitute and drug addict, is also deathly sick. Only she takes matters into her own hands. And like an intersection in the middle of a flat, sprawling desert they all come together in a nice easy package.
Rails & Ties presents much drama but not a lot of depth. Although there's tragedy at every turn, I simply couldn't feel for either Tom nor Megan. This is despite some should-be strong scenes and shots from Eastwood. What I found missing was connection. There is such a distance in all of the characters that I couldn't get into their lives. In order to feel you must connect. I believe this is what Eastwood was aiming for but still missed the mark.
Rather than going with the obvious and the predictable, Rails & Ties would have benefited from more edge. There's a slew of issues the film tackles such as cancer, impending death and its ensuing grief, child rights and labor laws to name a few, yet there is little in the way of new insights presented. If it had been a stronger character story, I probably would have largely overlooked this, but there's little else to get excited about.
Rails & Ties DVD Review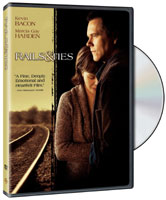 The Rails & Ties DVD offers a solid film package but little else. The disc offers the film in a nice looking widescreen format. Audio is available in only English Dolby 5.1 Surround, although there's French, Spanish and English subtitles. The only added features are eight minutes of additional scenes and previews for The King of Kong: A Fistful of Quarters and Love in a Time of Cholera.
Rails & Ties Gallery
Trailer