Ratatouille is complex in its simplicity. It can be summed up quickly by saying it's about a rat who helps a clumsy oaf achieve greatness in a French restaurant. But the rich themes that it covers in the process are universal and inspiring.
Remy (voiced by Patton Oswalt) is something of a misfit in the rat kingdom. He's surrounded by family and friends who like the comfort and predictability of the status quo. And when you're a rat that means eating garbage and loafing around. Remy, on the other hand, has a keen sense of creativity. He wants to bring life to not only his meals, but to everyone's. So that's where his adventure begins – by stepping away from the predictable and mundane and into a risky world of variables and uncertainty. There's several obstacles standing in Remy's way from becoming a master chef, the main one is the popular feeling that rats at pests best left for mouse traps and dark, dank alleys.
Like all Pixar films, the look is excellent. The design is kept somewhat simple, which makes the details and direction that is included that much better. For example, instead of going with overly detailed characters, the looks are kept simple but the expressions and gestures provide the perfect amount of characterization. This isn't a film so much about comedy or eye candy for the sake of eye candy. It is about telling a story with characters who have real emotions. That said, the look is complex and filled with details. But the design team brings such a clean and defined look that they make it look a little less fancy than it actually is.
Director/writer Brad Bird (The Incredibles) doesn't pander to the fart joke or bring all of the ideas to the level of just the tots. I'd argue instead this is an adult film with just enough action and cute fluffy animals to keep the kiddies amused just enough to keep them from squirming. But with a running time of nearly two hours, that will be tough. Even with all the excellent material and solid pacing, Ratatouille does lean a bit on the longish side.
Ratatouille is the perfect title to encompass not just this film but my general feelings of Pixar overall. It has become the most dependable "brand" for me in film today, more so than any director or actor working today. Ratatouille (the food) is a comfort dish eaten often by ordinary folks. Likewise, Pixar presents films for the masses that are intelligent but without being pretentious. They are a testament to character over trends and gimmicks, which would have been an easy pit to fall into given their cutting-edge nature. There's really something to be said for the unassuming feel that Ratatouille brings to the plate that's both fun and smart for both young and old.
Ratatouille DVD Review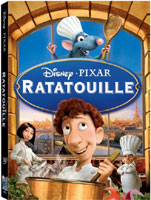 The DVD release of Ratatouille comes with a lighter helping of extras compared to some other Pixar releases, however it's on par with their last disc, Cars.
The film is shown in an immaculate widescreen with sharp colours and clean of an artifacts (which is the way it should be considering the film was made inside a computer). The 5.1 Dolby Digital soundtrack is excellent, particularly in picking up the details of life inside the busy restaurant kitchen. There's also a 2.0 Stereo track and English subtitles. A helpful feature is the audiovisual setup screens that will easily help you ensure your system is at its optimal.
"Fine Food and Film: A Conversation with Brad Bird and Thomas Keller" is a nearly 15-minute featurette that takes a unique approach to the standard "making-of" look that's on almost every DVD now. Instead of just stating how Ratatouille was made, it compares the process to food and also gets philosophical about the creative process that is used in both cooking, filmmaking and any art form in general.
Remy and Emile host a new animated short called Your Friend the Rat, which humorously documents the history of human-rat interaction over the years. Informative and entertaining, it gives lots of info but it doesn't shove learning down your throat. There's also the hilarious Pixar short Lifted, which accompanied Ratatouille during its theatrical run.
Three deleted scenes are introduced by various filmmakers and are shown in rough black and white two-dimensional animation. There's also a generous dose of previews and trailers to go through prior to the film's menu screen. I also managed to find a couple of easter eggs, which can be accessed from the main menu by clicking on two of the pots. The first is a 15-second animated "product placement" for rat killer done in a 1950s sing-along style. The second Easter egg has filmmakers trying to pronounce and spell the film's title. To access these Easter eggs, the animated rats must be standing next to the pot, so timing can be tricky.
Ratatouille Gallery
Trailer