It's no secret, Hollywood loves itself. Throughout its rich and storied history, you could make an entire genre for films about films and filmmaking. Arguably there's none better – and sadder – than Billy Wilder's Sunset Boulevard, which tears away at the curtain that keeps reality away from fiction.
In a story that could easily be updated (which should be a testament to the movie's strengths and staying power considering how liberally remakes are given the go-ahead today), the film centers around one-time silent screen star Norma Desmond (Gloria Swanson), who was all but forgotten in Hollywood with the onset of talking pictures. She's a relic from the past who refuses to let go and move on and this has driven her to the edge of her sanity.
Fate brings Joe Gillis (William Holden), a struggling screenwriter, into her home. In need of some fast cash, Gillis accepts a live-in job from Desmond to edit her big comeback picture, a bloated epic that might have worked in the past but just reeks of flop in the movie's present time. The short-term job turns into a case of co-dependency where Gillis provides cold hope and companionship for the delusional Desmond. In return Desmond showers Gillis with new clothes, fine accessories and a safe place to live at a time when he's in a load of trouble.
Wilder spins a rich and layered yarn that is self referential at almost every turn. On the surface is a noir-style thriller in which Gillis struggles to balance his career ambitions with the basic need to survive, even if it means being a boy toy of sorts to a sick and delusional eccentric. The casting of Swanson is perfect. She herself was a silent film star, so there's much to be said about her playing someone looking for a comeback. Several additional silent film stars make cameos, many of them playing themselves, furthering adding to the lamentation of the finality of the era.
Swanson's performance is one that is over-the-top and melodramatic, but in the best possible sense. It's the way Desmond knew how to live. She gained fame by working her hands and face. She was an expert in conveying emotion strictly through body language. The lack of sound in her films demanded it. The result in Sunset Boulevard is a sympathetic character that is also one of the best villains of all-time.
Sunset Boulevard also shows that our obsession with fame and maintaining it aren't new. Although much can be said and written about the hyper-invasive tabloid times in which we currently live, it's really a dream that's been around for a very long time. Desmond needs the spotlight to survive. Outside of it, she struggles to survive. The need to be remembered and, in a sense, worshiped, is what drives her and her passions. But like every film, it's all an act and one that ultimately cannot be maintained while still remaining sane.
Sunset Boulevard strips away the lines between fiction and reality in a way that's both dramatic and compelling. It's a film I've seen several times now and never tire of, largely because of the dynamic between Swanson's performance and the parallels she brings to Norma Desmond. The story is also very strong, but it's the unique spin the cast and Wilder bring that make it perhaps the greatest example of Hollywood referencing itself.
Sunset Boulevard DVD Review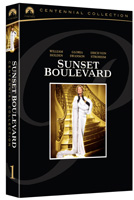 The two-disc Centennial Collection DVD release of Sunset Boulevard is a loaded release that showcases both the film and the place in Hollywood history it holds. The film is shown in its original full screen format with a mono soundtrack. Dubbed tracks are also available in French and Spanish. English, French and Spanish subtitles are also offered. Film historian and author of "On Sunset Boulevard: The Life and Times of Billy Wilder" has an informative commentary track that is rich on history.
Additional bonus features pack the second disc. Featurettes include topics such as the making of the film and its development, the movie's noir aspects, stars Gloria Swanson and William Holden, the soundtrack, the real-life locales, and Sunset Boulevard's place in Hollywood history. The history of Paramount is told through a trio of featurettes: "Behind the Gates: The Lot," "Paramount in the 50's" and "Edith Head: The Paramount Years." Additional features include a Hollywood map, cut script pages from an alternate opening, a stills gallery and the film's original theatrical trailer.
Sunset Boulevard Gallery
Trailer
[tubehttp://www.youtube.com/watch?v=UwxGbhclIGw[/tube]