With a continually growing vault of current films to get wrapped up in and keep up with, sometimes it's the old "classics" that get forgotten. Like the books by Dickens and Melville that have yet to be devoured off my bookshelf, Billy Wilder's Sabrina eluded me for many years. Why? I don't know. Perhaps it was the unappealing look of the Harrison Ford-driven remake a decade ago. Maybe it's the fact that I'm not drawn to romances in the first place so old-time romances get even more ignored. I could also argue my wife's resistance for anything with Bogart or the blandness of the title. Whatever the reason, it's taken me a long time to find a reason to catch the somewhat dark romance, which it unfortunate. Sure, it takes a familiar road, but there's certainly enough bubbling under the surface to keep the heart of the film relevant and appealing more than a half-century later.
Audrey Hepburn stars in the titular role, the daughter of a chauffeur for the very wealthy and powerful Larrabee family. Growing up Sabrina was in love with David Larrabee (William Holden), the lady-loving playboy of the Larrabee family. Love might be understating it. It was more like an obsession – about as dark as a romantic comedy from the 1950s could show. After moving to Paris to attend cooking school and returning home to America, Sabrina is a changed woman. She's more worldly, grown up and appealing to both David and his career-driven older brother Linus (Humphrey Bogart).
One could easily reduce Sabrina to its character-driven love-triangle plot and in many ways they'd be right. But the characters are so rich and the changes that they undergo so endearing that it's difficult not to fall for the film. Like most any of Hepburn's role, her elegance is on display in every scene, even when she's stalking behind trees and trying to off herself in her father's garage early in the film. Compared to today's "ugly duckling" stories that have been made especially popular in teen comedies like She's All That, Sabrina's transformation in the film isn't so visually dramatic. Yet, there's a lot left to the viewer with her role. Wilder doesn't dwell too much on her unstable side so it doesn't necessarily draw a lot of attention to itself. Yet the implications are still there, so when Sabrina comes home it's more her confidence and experience that is on display.
Each character in the film, both main and supporting, is distinct and entertaining, which goes a long way in my books. It makes each scene, no matter the level of dramatic importance, interesting. Wilder also blends just the right mix of romance, drama, comedy and witty dialogue into the story.
It might have been a long time coming for me, but I can now knock Sabrina off my "Classics Not Yet Seen List" and do so with a smile on my face and a lesson in strong characters in my mind.
Sabrina DVD Review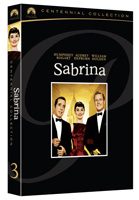 Sabrina is showcased in a magnificent full screen transfer that looks excellent considering its age. Audio is in an acceptable mono (English, French and Spanish tracks are offered), with optional subtitles in the same three languages.
The "Centennial Collection" release includes a disc of bonus features that showcases not only the film, but Hollywood in the 1950s – at least through the eyes of Paramount. "Audrey Hepburn: Fashion Icon" is a 17-minute look at the star's impact on the world of style. Running about 11 minutes, "Sabrina's World" looks at the ultra up-scale world in which the film is set. "Supporting Sabrina" sheds a short spotlight on some of the lesser-known character actors in the film and many others of the era. "William Holden: The Paramount Years" gives a 30-minute biography of one of Hollywood's most respected stars of the time. "Audrey Hepburn: In Her Own Words" is a largely promotional piece that goes into the history and background of the film. "Behind the Gates: Camera" looks at the studio's camera department, while "Paramount in the 50's" takes a peek at the studio's decade. Finally, there's an extensive gallery of stills from the movie, its production and its promos.
Sabrina Trailer
ptube]http://www.youtube.com/watch?v=NZE5tDWQ3UM[/tube]