No matter your taste in music, The Rolling Stones are legends. Their music will far outlast their own individual lives. Likewise, Martin Scorsese is a legend of cinema, whose films will also resonate long after he passes. Combine these two legends and you'd expect nothing less than stellar. More than a concert film, Scorsese's Shine a Light not only throws yet another spotlight on the rockers but also carves out a story to pay tribute to the "Satisfaction" musicians.
Filmed in 2006 at New York's Beacon Theater, the concert itself acted as a fundraiser for a Bill Clinton charity. No matter the setup, the Stones justify their unofficial title as the World's Greatest Rock Band. Age might dictate that their entering the realm of senior citizen-hood, yet Mick and the gang show more energy than many of their current counterparts that are a third their age. After spending far too much time dieting on American Idol, it was great watching Jagger play the crowd with his constant hand signing, hip shaking and general "getting in the zone"-edness.
Like the band, the cameras are in constant motion, offering a variety of show perspectives. It also helps shape their on-stage personas. Scorsese has the hall lit up brightly, enabling the audience to be a part of not only the show but the film as well. It's a further testament to the connection Jagger has with his concert-goers.
The song list consists primarily of many of the Stones' classics such as "Satisfaction." Although the menu is largely rock, there's a bit of the blues and a touch of country on tap as well. Among the notable guest spots are songs with Christina Aguilera, Buddy Guy and Jack White.
The great concert films offer more than just a stage show. They must also construct something of a personality for their subject matter. Otherwise you've just got something that's far inferior from actually being there and little reason to want to watch it. Going to a live show is a way of connecting directly with the music. Seeing a concert on tape, you lose that connection and it's little more than a collection of tunes. What sets Shine a Light apart from most other concert films is its ability to construct a story within the show. Early on there's some dispute between Scorsese, the band and within the band as to what exactly is going to happen with this show. It doesn't take up a lot of time but it anchors the film just enough. Also, throughout Shine a Light, news footage is shown from earlier in the Stones' career, which establishes a couple of themes about age and longevity.
Shine a Light is a celebration of legends. But unlike most legends, both the Rolling Stones and Martin Scorsese refuse to be left to pasture. Instead they continue on creating and showing why they're legends in the first place.
Shine a Light DVD Review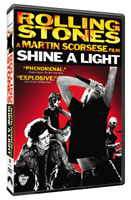 Originally released on both the big screen and in IMAX, it shouldn't be surprising that the Shine a Light DVD looks amazing. The enhanced widescreen picture is clear an vivid in all respects. Equally impressive is the 5.1 Dolby Surround audio. There's a 2.0 Stereo track as well plus English, French and Spanish subtitles.
The main part of the bonus features is an encore of sorts with four additional songs cut from the main feature: Undercover of Night, Paint It Black, Little T & A, and I'm Free. There's also a 15-minute behind-the-scenes featurette that dedicates much of its running time to rehearsals.
Shine a Light Gallery
Trailer