Shrek, Donkey, Gingerbread Man and the rest of the gang from Far, Far Away Land are back and not much has changed other than a couple of new friends. With the rhythm from the first two films firmly in place, Shrek the Third coasts on its past box office successes, offering some mildly amusing spots but missing as a whole.
Following the natural progression of the first two films, Shrek is going through some mid-life changes. His wife Fiona is expecting, so his natural ogre tendencies have him fearful of diapers, vomit and lack of private time. Add to that the fact that he's appointed king of Far Far Away Land and Shrek is feeling a little stressed. With all of the villains banding together while Shrek is away on a quest to find a more suitable king, chaos ensues and Gingerbread Man loses a strategically placed candy.
As you'd expect, the animation is superb. Although the look itself hasn't changed, there seems to be fluidity in the way the action moves. The overall style is one that combines elements of realism with a cartoonish flair. There still appears to be some work needed on facial movements but the rest of the body movements looks very natural on all fronts.
Maybe I'm a grumpy ogre myself, but I wasn't a fan of the first two Shrek films. Sure, they had a great gimmick but the reliance of toilet humour and lack of originality in the plot really turned me off. Although Shrek the Third is no different, I found myself used to the routine. I desensitized to fart jokes and can't even recall if there were any this time around. Perhaps the "edginess" in this installment is found in the regular diet of shots of babies throwing up.
There are several funny moments in Shrek the Third, but they're largely limited to random gags. It's not quite on the same level of randomness as TV's The Family Guy, but it's getting there. The story once again is flimsy, perhaps more appropriate for an animated sitcom. That would also solve a problem I have with not just the Shrek films, but all of Dreamworks Animation's film – a reliance on celebrities providing the voices rather than the best possible fit. Although they may add to the short-term marketability of a film and, in some cases, they do work out well (like Robin Williams in Aladdin), a lot of the time I find familiar voices to be distracting as it's hard to separate the voice from the character on screen. For example, I think I would have been able to like Shrek better if I didn't connect him with an annoying accent of Mike Myers that I'd heard dozens of times in his previous work in film and on TV.
While there are times of moderate amusement, Shrek the Third offers few surprises. It seems as though perhaps the creators have found their stride and are calling it in more than going out on a limb. Granted, Dreamworks is likely to kill their golden goose if you will, but perhaps some sort of variation in the inevitable fourth installment will give it some new life.
Shrek the Third DVD Review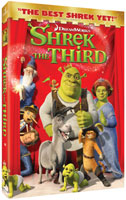 Shrek the Third is shown in a magnificent enhanced widescreen format. The colours are vivid as they ought to be seeing as how it was digital to begin with. Audio is in Dolby 5.1 Surround (English and French). There's also 2.0 Surround tracks in English and Spanish. English, Spanish and French subtitles are also optional.
This is a kid-friendly DVD with tons of little extras, none of which run more than a handful of minutes. They don't go deep into the film, but they are fun for the most part, although the generic music that runs throughout most of them gets annoying. You can check out Artie and his classmates with an interactive yearbook. "Big Green Goofs" shows the animators having a little fun and putting it to classical music. Three unmade scenes are shown in storyboard format. In "Meet the Cast" the voice stars talk briefly about their work. Shrek and Fiona are get some tips from their friends in "Shrek's Guide to Parenthood". "Tech of Shrek" is a ten-minute look at the making of the film from the perspective of the computer animators. The "Dreakworks Jukebox" is a clever way of promoting their animation catalog as it takes some of the best parts from their other films and presents the previews as songs, not traditional trailers. "Merlin's Magic Crystal Ball" is the DVD equivalent of one of those magic eight balls you may or may not have sitting on your desk right now. Shrek jumps on the "being green" bandwagon in the short but kid-friendly "How to Be Green". Donkey comes by and gives some dance tips. DVD-ROM users can access a handful of charming games and activities. There's also musical previews of the first two Shrek films as well as trailers for Kung Fu Panda, Spiderwick Chronicles, Bee Movie and Charlotte's Web.
Shrek the Third Gallery
Trailer