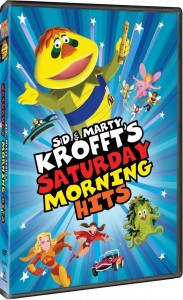 Children's television programming has a history of being weird. Creativity stimulates young peoples' minds. I'd also say that many shows for young children have a bit of punk attitude in them, going against norms and standards to create a world that's at the very least stimulating, if not entertaining. But while I respect the subversive nature of Bugs Bunny and his pals making James Dean bad look cool and Tom and Jerry sticking it to parents screaming about on-screen violence, the crown for strange kid's programming has to go to Sid and Marty Krofft. Don't believe me? Then check out the recently released Sid & Marty Krofft's Saturday Morning Hits It's a mix tape of sorts, collecting small, single-episode samples from several of their 1970s shows.
The Saturday Morning Hits! collection includes an episode from the following shows: H.R. Pufnstuf, Bugaloos, Lidsville, Sigmund and the Sea Monsters, Electrowoman and Dynagirl, Wonderbug, and Bigfoot and Wildboy. Each show has a distinct Krofft feel, due in large part to both their bizarre premises and their googly-eyed costumed characters. Today, the effects are totally dated but to me, that's part of the fun. The shows themselves aren't very good either. The stories are silly, often containing more effect into the opening credits than the episodes that follow. But I'd argue that these shows aren't meant to be dissected for their stories. It's about weird and wild worlds where grown-ups are generally considered evil and kids reign supreme (with some help from some seriously large stuffed animals and magic instruments).
If you like one show from this set, chances are you're going to enjoy the others as well. The opposite should be found for those who can't see past the bad stories and acting that isn't much better. Nobody, however, can deny the originality and imagination of Sid and Marty Krofft. This DVD is certainly a testament to that.
Buy the DVD.
Trailer