Sometimes face value really is face value. Or maybe it appears to be so simple when really it's all just a ruse for something more complex. That's the case with Billy Bob Thornton's star-making Sling Blade. Well acted, a multi-leveled story and a pure honesty make Sling Blade one of my favourite films of the 1990s.
Thornton plays Karl, a mentally handicapped Southerner who's spent the better part of 20 years in a local insane asylum for killing his mother and her lover in a fit of rage. Now out in the free world, Karl looks to adjust to his new surroundings. He gets a job fixing machines and befriends Frank (Lucas Black), a young boy struggling to come to grips with his father's violent suicide. Karl continues to make more friends and establish himself within the small, southern community that's changed a lot since he was institutionalized.
Karl truly is the face value in which he comes across. There's many instances where people are jabbering at him. Karl's listening but, when asked, he speaks the brutal truth and lets people know where his mind's at. Every now and again Karl comes through with a deep nugget of truth, something that is rooted in his simplicity but nonetheless deeply profound.
One could argue that Sling Blade is a response to the nostalgia and hope brought forth in Forrest Gump, which was released just a couple of years earlier. Both share simple lead characters who touch many people but they go about it in totally different ways. Forrest Gump, tells the story of modern America through a lens of hope and pride. Sling Blade tells a more brutal truth where honesty and redemption are more important than simply being there and in the moment. Forrest Gump is a story about a nation, Sling Blade tells the story of one man.
While Forrest Gump is a feel-good film, there's something creepy about Karl that never lets up. Part of it stems from Karl's brutal past. An act of spontaneous rage or not, the fact is that Karl committed a brutal act. He may have served his time and may not be a threat but there's still that nasty black cloud looming on the horizon. But there's also Karl's surroundings. Although most of the people he encounters mean him well, Karl has no real opportunity for him to succeed or excel. The chances he's given allow him to eat meat from a can, sleep in a garage and carry his book with a simple belt.
Based on Thornton's stage play, Sling Blade brings a marvelous script that blends natural-sounding, honest dialogue with some big ideas that are clearly brought forth and ready for some old-fashioned pondering. Thorton's performance also works to make Karl unforgettable. His grunts and cutesy lines could have easily been annoying or distracting, but they're neither. While they certainly make Karl a distinct character, Thorton brings so much more. Whether it's a loving spirit or an awkward hug, Thorton makes Karl one of the sweetest creepy characters I've ever seen in a film.
Karl might be a simpleton but that doesn't mean there's not a lot going on in inside of his brain, no matter its capacity. Likewise, Sling Blade tells a horrific morality tale that's filled with memorable scenes and unforgettable characters.
Sling Blade Blu-Ray Review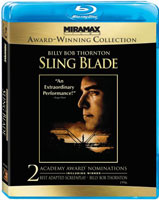 If you're a fan of Billy Bob Thornton, Miramax's debut bow of Sling Blade on Blu-ray should certainly provide you with your fix. Almost all of the special features are tributes of some form or another of the film's outspoken actor/director/writer. They're led by the extensive biographical documentary "Mr. Thornton Goes to Hollywood" in which family and fellow cast and crew, along with Thornton himself paint the Billy Bob legend. It goes from his humble Arkansas beginnings through to his being the stuff that Hollywood fairy tales are made of. A more brief version of Thornton's rise is told in "Bravo Profiles: Billy Bob Thornton." From there, there's plenty of discussions about the film. The most entertaining of these conversational pieces is a more than one-hour long roundtable featuring Thornton, Dwight Yoakam, Mickey Jones and David Bushell. Additional "conversations" are included with Robert Duvall and Thornton, Duvall on his own and Thornton with composer Daniel Lanois. Additional bonus features on the Blu-ray include three "On the Set" looks that are very raw, "The Return of Karl," which has no set up but appears to be a surprise appearance at an improv, a cut musical song and a feature commentary from Thornton that is sadly subdued and a lot of him pointing out some pretty obvious stuff.
Not to get lost in the shuffle is the film itself. Showcased in a magnificent 1080p widescreen (1.85:1 aspect ratio) picture, the southern ambiance is gorgeous and detailed. Audio is in English 5.1 DTS-HD Master audio with an additional Spanish 2.0 Dolby Digital track. Subtitles are available in both languages as well.
Sling Blade Gallery
Trailer