Cop shows are nothing new. In fact, they're like a staple food in primetime. They're something like bread or mac and cheese: it's always easy to go back to them. But eventually, the taste starts to wear thin so small additions are made to make it new again. Butter is added to the bread, a dollop of ketchup transforms mac and cheese. As far as cop shows go, Southland takes a plain piece of bread and makes it a sandwich. Opting to look at the personal side of the Los Angeles Police Department rather than the day-to-day case load, the first season of Southland changes the game. Although only seven episodes make up the debut run of the show, it's memorable nonetheless, and by gosh I want more.
The last police show I can recall being set in Hollywood was CHiPs. And that was more about Erik Estrada looking cool on his motorcycle than anything else. The depth of characterization was limited to visits to his bachelor pad and brief glimpses into his dates. Don't get me wrong, I love CHiPs and all its cheesy glory, but it's not something that I watch to understand life a bit better. Southland is about the home lives and complexities of relationships. Each member of the ensemble cast have some major issues that they're either dealing with or avoiding. Some of it's professional conflict but most of it hides behind a closed front door. With such a short season, much of it still sits in the shadows having merely been alluded to and waiting to be brought to the forefront as the show moves from network television to cable for its second season.
The appeal of Southland isn't the fact that the characters have flaws that they're working on but rather the honesty and originality in which its done. The writing is sensitive yet blunt. It doesn't seek out to exploit or sensationalize but rather humanize the drama. I loved the first couple seasons of The Shield and thought its final bow was some of the best television drama I've seen. That was a show about characters too, but it was also very different. It opted for big moments and shocking scenarios to lead viewers along. Southland simply is. Sure, it has some big moments but the real appeal is what happens afterward or leading up to. That's where the drama is.
A certain aura hangs over the myth of Hollywood, and I'm not talking about the smog. Movies and entertainment make it look like this beautiful place where you rub shoulders with celebrities under the shade of palm trees. In reality, it's not unlike a lot of cities. Sure, there are pretty spots where shoulder rubbing and palm shade exist but there's also a lot of grime and not so nice aspects. This is what Southland focuses on. Shot on the streets and in the alleys, the locations become a huge part of the show's authentic feel. It's very raw, combining different types of cameras and varied angles.
Southland is a show that draws you in with the smaller dramas rather than whacking you over the head with something huge. For example, the big case that ran throughout the first season was the seemingly simple task of protecting a young witness. But for those who are a part of this, either directly or indirectly, it goes on to show different aspects of their character. Southland has the feel of something fresh. It takes a new angle on something that's been done countless times before. And that's the exact reason why I can't wait for season two, whenever it might appear up here in Canada.
Southland: The Complete First Season (Uncensored) DVD Review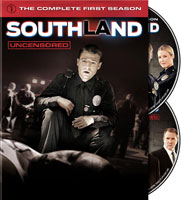 Southland: The Complete First Season (Uncensored) comes to DVD as a two-disc set. Each of the seven episodes is shown in a nice widescreen format with English 5.1 Dolby Surround audio. Although there's only one bonus feature, it's a good one. "Southland: Redefining the Cop Drama" uses cast and crew interviews to break down the inspiration and aims for the show.
Southland: The Complete First Season (Uncensored) Gallery