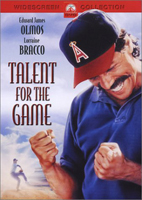 Can one be a rube when they are willingly being taken? I find myself asking this after watching Talent for the Game, a baseball movie that is flat on several fronts yet it still "feels right" as a whole. It's by no means some sort of quote-whoringly "fantastic stuff," "the best baseball movie since Ken Burns took 18 hours of my life" or even "a home run." But sometimes a solid single is all that it takes.
When life doesn't go exactly as planned, sometimes those plans just have to change. Desperation makes a fantastic motivator. For Virgil Sweet (Edward James Olmos), his career in baseball is on the line. As a scout on a team that's looking to make significant cuts, Sweet realizes he must find a can't-miss prospect for any chance at saving not only his paycheck but his identity as well. Sweet has spent his career scouring the small towns and sparsely populated holes in the ground of America looking for the perfect storm of baseball talent. In recent times it looks as though he's lost touch with the game, a sport where the big business side is becoming more apparent. It's not the same game Sweet laments about. And as much as he doesn't want to, he understands.
But then along comes a miracle that goes by the name of Sammy Bodeen (Jeff Corbett), a young man with no professional experience but an arm that seems to come along once in a generation. Sweet sees the innocence in Bodeen's potential. Angels ownership and management sees the dollars the intrigue and raw power of Bodeen could bring in. Let the conflict of ideals commence.
Talent for the Game is one cheesy scene after another. Yet, at least from my baseball-loving perspective, it remains watchable. This is in large part due to Olmos. He conveys a sense of genuine joy and love for the game, standing out in every scene that he's in. His beaming grin and range of emotions makes even the corniest of scenes seem at least a little bit genuine.
However, far too often the film lays things on too heavy, playing to almost every predictable plot device one would expect from a baseball movie. The majority of the characters are also very flat as well, offering little range beyond one characteristic. For example, the Angels owner shows greed and little else. His lackey assistant falls victim to the disease where he feels the need to repeat everything his boss just said. Even the Angels' savior, Bodeen, plays up the scared, innocent deer in headlights routine to the point where I felt like gagging, even if just a little bit. Yet, at the same time I found myself suckered in. Something tells me that I'd have felt the opposite had someone other than Olmos been cast in the lead role. His presence alone saved Talent for the Game from complete disaster.