How did they expect to live up to The French Connection? Maybe the plan was not to match the original. Perhaps it was simply to continue the story (or at least tell us that's what it was) and make a few bucks in the process. That's the reasonable explanation for most sequels. The bills have to be paid and established stories and characters are a dependable way to make ends meet. That being said, while it certainly is a couple of notches below its action classic original, French Connection II is still a darned good action film that maintains the core of its central character and has some added layers that are genuinely disturbing.
Gene Hackman returns as "Popeye" Doyle, a grumpy and streetwise detective from New York. He's gone overseas to France to continue his pursuit of Alain Charnier, an unassuming drug lord who blends in among the world's high rollers and upper class. Doyle's presence in Marseilles is frowned upon by his new partners. They're none too pleased to have an exchange cop doing his business on their turf. But Doyle's happy on his own anyway, except when he wants to get drunk and if that's the case then anyone will do. Doyle goes from hunter to hunted once he's discovered in town. He is captured and, in a sense, tortured as heroin is forced into his system and over the course of a few days Doyle becomes a junkie against his will.
French Connection II is at its best when it's at its most grim. Like the original, director John Frankenheimer (who replaced William Friedkin) takes a gritty approach that exposes the dirty underbelly of Marseilles. During the day, in public everything is gorgeous. The sun shines, people mingle and there's no trouble to be had. But with the night, the underbelly emerges. Frankenheimer uses a very visceral approach in creating and emphasizing this to make the harshness of Doyle's environment come off even stronger.
Hackman continues to be excellent as the anti-hero lead. Doyle is a character who is out for the greater good yet he has an edge to him. It's easy and entertaining to watch him but I can almost guarantee there aren't a lot of people who could be friends with Hackman's incarnation if he were a real person. Doyle is put through a lot in the film and Hackman never falters. He's particularly memorable as he deals with the fallout of his drug addiction.
The biggest issue I have with French Connection II is its lack of focus. While Doyle's capture leads to some of the best scenes in the film, it also distracts away from the heart of the story. It would have been fine if it only used a bit of the screen time, but it took up a major part. Ultimately, this detracts from the overall big picture of the plot as it gives a disproportionate amount of time to one aspect.
Still, French Connection II isn't an embarrassment to the original. While it might not have the intensity of the first film, it's still more intense than most films. It doesn't have a chase scene that's rated amongst the best ever, but Frankenheimer and his crew did a solid job of establishing some strong moments of their own.
The French Connection II Blu-ray Review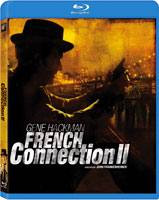 Although not nearly as extensive as the original film's Blu-ray release, French Connection II is still a solid catalog release. The film is shown in high definition widescreen (1.85:1 aspect ratio) with English audio in 5.1 DTS-HD audio. There's additional mono tracks in English, French and Spanish as well as an isolated score. Subtitles are offered in English, Spanish, Cantonese and Mandarin. The film is D-Box enabled for those with the high-end technology.
Extras include two commentary tracks. The first is with director John Frankenheimer. It's moderately conversational but not a ton of info is given. Star Gene Hackman and producer Robert Rosen offer up a similar commentary tack of their own. "Frankenheimer: In Focus" provides an informative biography of the director. There's also an interview with Hackman and a series of still photo galleries.
The French Connection II Gallery
Trailer