The Corleones are one of cinemas most powerful families, both in the control they held in their respective films and for the clout they had in Hollywood business deals. I mean, after the critical and commercial successes of The Godfather and The Godfather Part II, who wouldn't want to go for the hat trick? Although not the classics like the its predecessors, Francis Ford Coppola's The Godfather Part III is still pretty darned good as it takes the story of organized crime and brings it closure and then a little bit farther for good measure.
Although things seemed pretty much wrapped up after The Godfather Part II with Michael Corleone (Al Pacino) in complete control, albeit alone with nobody to share it with, time presented itself with an opportunity for a "where are they now" sort of story. Finally appearing to make his family legit, the aging Michael is now looking at what his legacy will be. Riddled with guilt for his actions a generation ago, he seems to be on his way out of organized crime and higher in the ranks of America's philanthropists. But when a gang war erupts amidst Michael stepping aside, it's not long before Michael's true legacy shows itself.
Overall, it's an interesting take, albeit one that wasn't entirely necessary. Watching The Godfather Part III I couldn't help but think of it as a celebratory send off, much like you see in a series finale on TV. You gather everyone together that you possibly can, find them a scene or four and build a story around it. Those who watch it will have a deep sense of nostalgia and excitement for the originals that nothing could possibly go wrong. Nothing except one particularly out of place performance.
Seeing as how I can't act, I'm can't pretend to be Laurence Olivier and speak definitively on performance. However when someone is distracting to those around them to the point where I don't buy the character as being real (within the context of the film), then there's a problem. Add to that that the actor in question is the director's daughter and I've got flashbacks to when I was a kid and my coach wouldn't let me pitch in favor of his son who wasn't much better than me. Thankfully, Sophia Coppola went on to follow in her father's footsteps and took up directing bringing such great films as The Virgin Suicides and Lost in Translation to life.
Think of The Godfather Part III as a good bottle of microbrew. It's refreshing and goes down smooth but it's nothing spectacular or overly memorable. Hold it up against some award-winning vintage wine and of course the bottle of microbrew is going to look a little weak. And so goes this film's reputation. It's attached to one of the greatest series of all-time and while it's better than your average film in a lot of respects, it simply cannot hold up to the legacy of The Godfather and The Godfather Part II.
The Godfather Part III DVD Review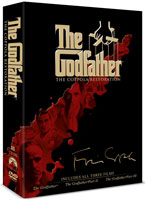 When you're one of the greatest films of all-time then you deserve only the best. Despite having a solid (and originally pricey) release as a boxed set a few years ago, Francis Ford Coppola wanted to make things better. Now he proudly presents "The Coppola Restoration" box set in which both The Godfather and The Godfather Part II have both undergone meticulous restorations.
Like The Godfather, The Godfather Part II has been cleaned up and looks cleaner and sharper than I've ever seen it on both the previous VHS and DVD copies I've owned. It also has a new Dolby 5.1 Surround audio track as well as a 5.1 French track and an English mono track. Subtitles are offered in English, French and Spanish. Francis Ford Coppola another informative commentary track.
The remaining bonus features are bundled together on not one but two bonus discs. One disc contains features that were all released with the last DVD box set a few years ago. Nine featurettes make up a deep and rounded look at the making of the film. Everything from writing to cinematography to music to sets are covered. Additional features include deleted scenes, a Corleone family tree that connects many of the characters, an image gallery and short written biographies for major crew members.
New bonus features continue to amaze in the number of angles extras can be taken. "Godfather World" looks at the impact The Godfather franchise has had on pop culture and makes connections to both The Sopranos, South Park and The Simpsons, amongst others. "The Masterpiece That Almost Wasn't" tracks how Hollywood, amidst a tremendous change away from the studio system, nearly led to The Godfather not being made. Not only is it another look at the film, but it's also an interesting and revealing piece on Hollywood history. "…when the shooting stopped" explores the post production and the conflict over the control. "Emulsion Rescue: Revealing The Godfather" talks about the restoration process the film underwent for this release. For some reason, stars who just happened to be at the premiere of Cloverfield comment on what they think of The Godfather in "The Godfather on the Red Carpet." That's synergy for you. And it's really feels out of place here. Under the title "Four Short Films on The Godfather" there's a hodgepodge of additional extras. The first, "The Godfather vs. The Godfather Part II" has critics and stars debate their favourite of the two films. The remaining shorts put the spotlight on random quotes, cannoli and the fate of Clemenza. All of the new features can be subtitled in English, French or Spanish.
It's not really a big deal, but still something worth noting. The bonus discs were mislabeled in the set I received. It's nothing huge, just discs four and five having the wrong titles on the disc. I'm not sure if this was an error with all of the sets or if it's going to be corrected.
The Godfather Part III Gallery
Trailer