A guy offered to sell me a bridge in Brooklyn one day. He bought me a couple of beers, made a good pitch but then my wife dragged me home. He followed me out to the parking lot hoping to close the deal but my wife was covering my ears as best she could humming some Beatles tune. Or was it The Spice Girls? Doesn't matter.
It turns out the guy was a liar. Go figure. He had a debt to pay and was looking for an easy mark to scam. All I had to do was listen.
History is dotted with deception, or rather painting perceptions. Look at how Europeans spread throughout North America. Sure, this here blanket is real safe. It's warm too. Chicken pox? Blah! Look at the deflections Hitler made when looking to purify Germany and the rest of Europe. We lost the first great war because of them. Look at how Georgie Bush went to war in Iraq. They got them there weapons of mass destruction hiding in some big underground cave. Yeah, that's it – underground cave. Okay, I guess deception and painted perceptions are about as timeless as bread and butter.
With this heightened time of distrust comes Lasse Hallström's The Hoax, the adaptation of Clifford Irving's recount of how he duped the entire publishing world into thinking he was penning the enigmatic Howard Hughes's autobiography. The film is an exciting tale of deception and fast-paced thinking, the perfect therapy for all the growing core of cynics out there who are at a breaking point where maybe they don't feel they can even trust Ty and his crew on Extreme Makeover: Home Edition.
There's many levels of distrust to The Hoax. Clifford (Richard Gere) is a sleazy car salesman at heart. Only he writes instead. He's got a history of cheating on his wife (Marcia Gay Harden) and he's not afraid to stretch the truth with even his closest of friends. When Clifford's "this close" to becoming a best-selling author, the proverbial rug is pulled from under him after an important reviewer slams his novel. Desperate to be noticed, Clifford and his researching friend Dick Suskind (Alfred Molina) concoct a plan to write Howard Hughes's authorized autobiography, only without his authorization. Clifford figures that with all of the billionaire's legal troubles, Hughes wouldn't bother challenging his book. As the lie becomes bigger and bigger, the masquerade gets more and more elaborate. But the potential payoff is huge, not to mention the fame and notoriety in the literary world.
There's a certain excitement captured in The Hoax that I haven't seen in a while. It follows a similar pacing structure to Catch Me If You Can in that much of the action is found within the ruse. As Clifford and Dick get deeper into their story, they even start buying into the lies. And when things get really hairy, there's always the deflection. It's a spin we're likely all familiar with because of the prevalence of it in the news today. It's all about taking a potentially bad situation and making it good. And to do that with a million dollar advance on the line, well, that just takes creativity. Creativity is entertaining. The Hoax is both creative and entertaining.
Hallström offers a fast-paced journey filled with whimsy and despicable, yet likable characters. Gere plays an excellent Clifford. Because I've always had troubles trusting him, it made the role even more appropriate in my eyes. The Hoax is a light but very timely look at distrust and cynicism. Hopefully some folks living in a certain house painted white might be able to take something from it and work towards building some trust rather than deflecting the truth in another WMD.
The Hoax DVD Review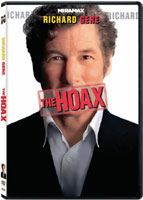 The Hoax's DVD release covers all the bases one expects.The picture is in a strong widescreen (1.85:1) with audio in 5.1 Dolby Digital Surround. There's also a dubbed track in Spanish and French and Spanish subtitles. Bonus features are led by two commentary tracks. The first is with director Lasse Hallström and writer William Wheeler. It is somewhat refreshing in that it is more conversational between the two rather than simply speaking to the audience. It makes for a much more lively experience than a lot of other commentary tracks. The second commentary is with producers Leslie Holleran and Joshua D. Maurer. This one provides more background gossip than the first. "Stranger Than Fiction" is the DVD's making-of featurette. Running nine minutes, it goes just as much into Irving's story than it does the actual production end of the film. The insights from cast and crew are the highlight here. In "Reflections on a Con" legendary TV news journalist Mike Wallace offers his insights into the charade as well as a bit of a backgrounder on how it came about from his perspective. Seven deleted scenes are available with or without commentary from director Hallström and writer Wheeler. There's also several previews, trailers and one extended scene.
Trailer