Animal stories and Walt Disney go together like jam on toast, groin shots on America's Funniest Home Videos or a comb-over on a balding math teacher. I consider most of the animal animations of Disney to be much beloved. I grew up with them, watched them over and over and even shared a few warm memories with my family. Enough sentimentality. Even with a catalog of some 40 or more animal features in the Disney vaults, The Jungle Book is one that still stands out among the bunch for me. With an ensemble cast of memorable characters, catchy tunes and lots of zaniness, it's hard not to love the Kipling adaptation – whether it's close to the source material or not.
The story follows Mowgli, a young boy who is raised by the jungle. As he comes of age, the jungle starts to fear him and what he might become. Bagheera, a wise panther, takes it upon himself to take Mowgli to safety, back to human civilization, where he can grow to become a man and away from the evil tiger Shere Khan. Throughout Mowgli and Bagheera's journey they encounter all sorts of jungle friends and foes like the laid back bear Baloo, the dancing monkey King Louie and the unforgettable forgetful elephant Colonel Hathi.
The cast of characters is so large and broad, they're like a zoo filled with stuffed animals. Each has their own unique outlook on things making them all distinct in so many ways, whether it's appearance, the way they talk or what they're after.
The songs are a reminder when animated musicals were fun and not annoying. For the past decade or so, most films have tried to sell soundtracks with big-name pop legends rather than piece together tunes that actually tie into the story. Okay, I guess there's Randy Newman but unless it's got Toy Story in the title I'm really tired of the Randy Newman moment too. I've been singing "The Bare Necessities" for almost 20 years now. It's on par with "When You Wish Upon a Star" and "Hakuna Matata" in my book as the kind of song that you'll sing along with from the first time you hear it until you die. And even then I might have them play Baloo's catchy mantra at my funeral. Although not quite as catchy, "Colonel Hathi's March," "I Wanna Be Like You" and "Trust in Me" are all other excellent songs found in The Jungle Book.
The Jungle Book is one of the truly great films to have the Disney brand. While the characters might not be marketed to the extent that the mouse and his buds are, this loose Kipling adaptation is filled with fun, adventure and a great soundtrack. While Disney might toss around the term "classic" to seemingly describe all of its films, this time it's justified (as opposed to The Great Mouse Detective where it definitely is not).
The Jungle Book DVD Review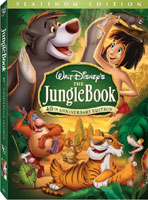 The Jungle Book has been cleaned up for the 40th Anniversary Platinum Edition DVD release. The enhanced widescreen (1.75:1 aspect ratio) picture is clear and vivid without any signs of aging. You've got to love a proper re-mastering. The songs come alive with the marvellous 5.1 Disney Enhanced Theatre Mix. There's also Spanish and French tracks as well as English subtitles.
This two-disc set is not only cleaned up, but it's loaded with extras. There's a deleted scene that features a previously "lost" character named Rocky the Rhino. Six deleted songs and a demo version of "The Bare Necessities" make an appearance. But remember, they were probably deleted for a reason. Catchy these songs are not. You can also jump directly to a handful of songs and choose to have the lyrics posted or not. The final piece of musical extras is a music video for "I Wanna Be Like You" by Jonas Brothers.
Bruce Reitherman, who was the voice of Mowgli, animator Andreas Deja and composer Richard M. Sherman lead an insightful commentary track that also includes soundbites from others taken from the Disney archives.
"The Bare Necessities: The Making of The Jungle Book" runs a little over 45 minutes and goes in depth into the production. The featurette is divided into a series of parts, which make it easier to navigate. "Disney's Kipling" looks at how Walt Disney himself adapted the classic stories of Rudyard Kipling into an animated classic. "The Lure of The Jungle Book" is a brief look at how the film has gone on to influence other animators into the present day. "Mowgli's Return to the Wild" explores how his work as the voice of the man-cub influenced Bruce Reitherman's future life path.
"Baloo's Virtual Swingin' Jungle Cruise" is a combination of four almost addicting games that may frustrate younger players (and their parents too). Science is rewritten in "DisneyPedia: JungleMania!," an educational look at the exotic reaches of Asia's jungles. The learning continues with four additional language games. These are much simpler and should be geared at toddlers.
Behind-the-scenes legends Frank Thomas and Ollie Johnston talk about animating the characters. Art galleries include storyboard art, layouts, character design and publicity and production photos. Finally, there's a public service announcement for the Disney Wildlife Conservation Fund and previews for Enchanted, Meet the Robinsons, Ratatouille, Return to Neverland, High School Musical 2 and The Aristocats.
The Jungle Book Gallery
Trailer